One of the very good ways to advertise your business products or share your knowledge with your followers is to open a free youtube channel. I have a second website running, so I will show you how to create YouTube Channel for Embroidery Business as an example on my second website. If you want to learn more about YouTube for online business, please, join me on this journey.
This post may contain affiliate links. Please, see my full disclosure policy for details.
Step 1: How to decide on your niche – ideas for embroidery YouTube channel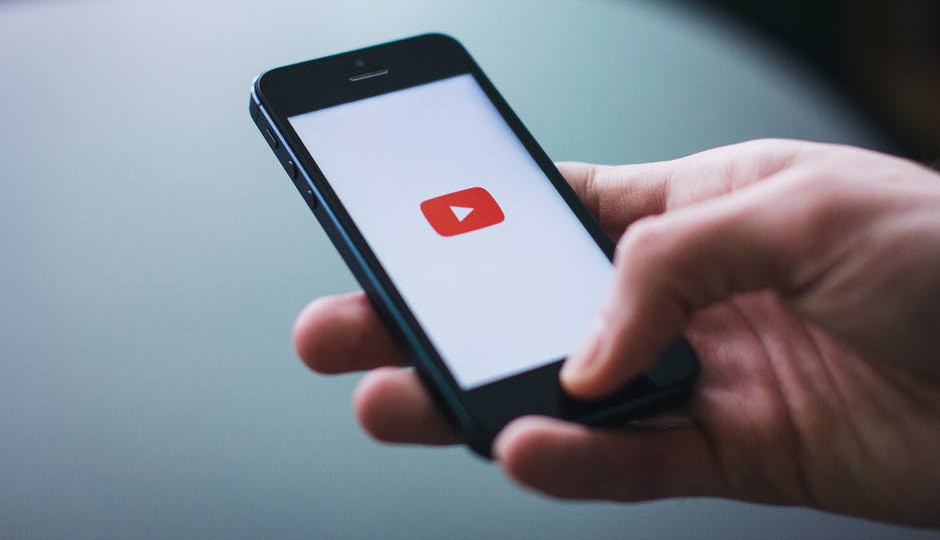 If you already have running business or if you have already started an online business then you already know what your Youtube channel will be about. My Youtube channel will be part of my second website, where I share about our woodturning projects and products – consequently, our YouTube channel will be about wood, woodturning and wooden products.
I know for several YouTube channels where owners do all their filming with phone and have lots of subscribers. I think that is very good news and that also helped me to cross out one of my biggest excuses – that I need to invest in a good camera.
I personally follow several embroidery YouTube channles, here are some examples of my favorite ones
https://www.youtube.com/user/svetlanamalina
2.) HandiWorks
https://www.youtube.com/c/HandiWorks/featured
3.) Inga Marita
https://www.youtube.com/user/IngaMarita
Step 2: How to create a YouTube Channel for Embroidery Business
A prerequisite for a free YouTube channel is a Gmail account – without it, you can't open a YouTube channel.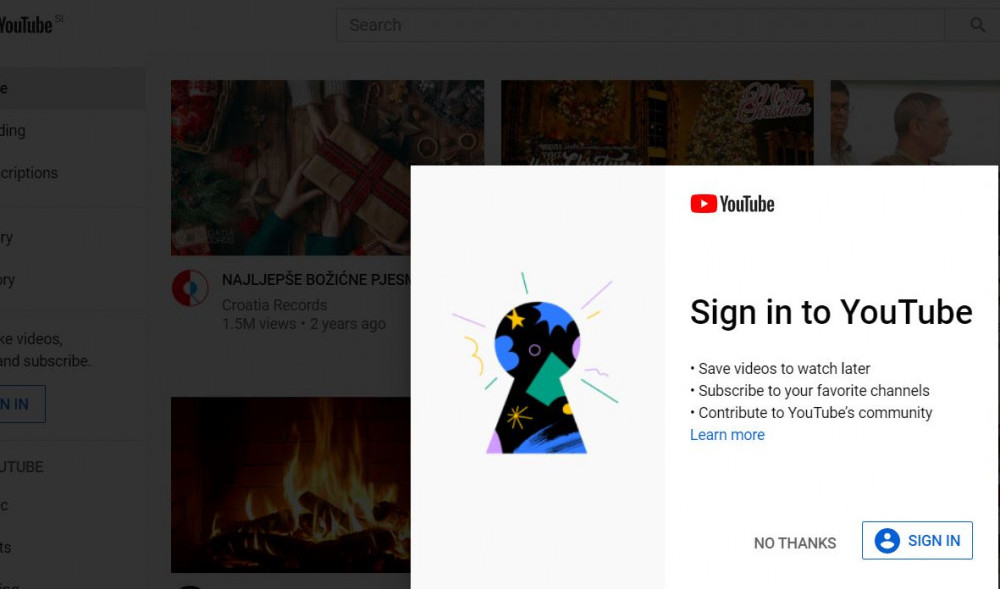 You need to create a Gmail account if you don't have it yet or use your existing Gmail account. After you sign in, you click on your logo icon and a drop-down menu opens. You select your channel from the drop-down menu.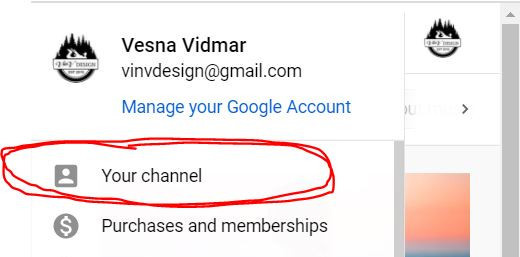 next step
In the next step, your Youtube dashboard will open. There are several options available, I have decided to first check out MANAGE VIDEOS button. Because I have just started my channel. you can see there No subscribers – I will work hard that this will change soon 🙂

After pressing manage videos button, I learned that YouTube has made several changes.
I got redirected to several tutorials where there are very good demonstrations on how to make a YouTube video for beginners.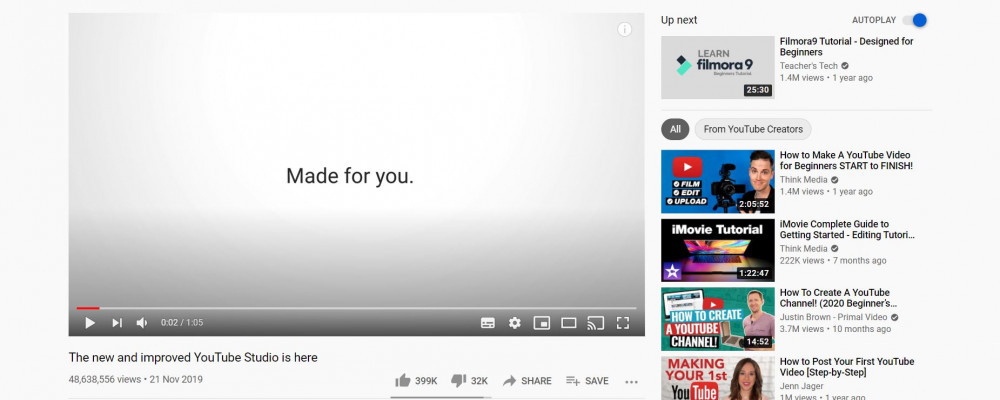 Here is also a quick video start presentation that I found very helpful
Step 3: Start uploading your content
Uploading videos is easy, you just push the UPLOAD button on your dashboard and start uploading your awesome content. Remember – YouTube is like Google – they both like quality & unique content for their users.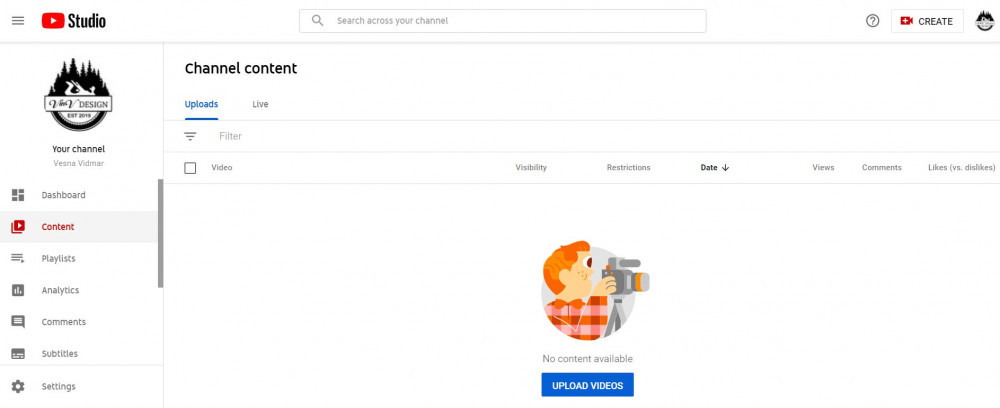 There are several sections available inside:
content (here you see single video).
playlists (you can group the same type of content into playlists)
analytics (this is definitely a very useful tool)
comments (I need to check if comments need to be approved or not – on some blogs you can have this filter)
subtitles (this is definitely a very good feature especially if you wish to share your content with a non-English speaking part of your public)
I should let you know that you need to grow your content to at least 100 videos before youtube starts giving you some positive growth of your channel. Youtube subscribers like quality content and more you create & share, more likes and subscribers you will get. 
I was very nicely surprised to see that inside YouTube Studio they also offer free music that I can use in my videos. I will definitely take advantage of that function!
They have also provided several videos that make it easier for you to navigate through new YouTube studio:
Step 4: Review if your channel complies with 5 golden rules of YouTube
Before you can start earning proper money on Youtube, your channel needs to comply with 5 Golden rules of Youtube:
Your channel must grow with subscribers and you need to have more than 1000 subscribers.
Content of your Youtube videos must have been watched by people more than 4000 watch time in last year.
Your content must follow the Youtube Guidelines and Policies. 
needs to be available in your country.
You need to have linked AdSense account (this is necessary because YouTube pays through AdSense account and if you do not have it, they cannot pay you).
Even more detailed info is available HERE (CreatorAcademy)
Step 5: Choose your way of monetizing your channel
There are several options for monetizing your Youtube content:
You can make more sales in your online shop by providing quality video of your products and making better visual experience for your potential customers. This is my main goal for starting the YouTube channel for vinvdesign business (https://vinvdesign.com/). 
Affiliate links – you can promote affiliate products and add affiliate links into the description box. If you think that your niche doesn't have an affiliate program you would like – I can assure you, that you are almost certainly wrong. Just type into google: Niche + affiliate program (+ country) – last part is for fine-tuning. You will get some ideas. You can also send me an email: vesna@myembroiderypassions.com , and I can help you search for an affiliate program that will be good for your niche.
You can apply to the YouTube Partner Program. After you get accepted to their program, you can choose from:

Ads – here you have several options like turn on adds for individual or multiple videos.
Super Chat & Super Stickers ( your followers pay to get their messages highlighted in chat streams).
YouTube Premium (turn on Youtube Premium revenue- every viewer that has Youtube Premium and watches your videos enables you that you will get part of the fee they pay for their Premium account).
Channel memberships – your members make recurring monthly payments in exchange for special perks that you offer.
Merch – some merchandise shelf allows some creators to showcase their official branded merchandise on YouTube.

You can also use Patreon with YouTube (you provide exclusive content on Patreon for your 'Patrons') – your main goal here is to keep your audience engaged with your content.
If I find new ideas on how to monetize your YouTube channel, I will add it to the list. You can leave your suggestions also in the comments.
Start today & create YouTube Channel for Embroidery Business
I am very excited that I have finally started a youtube channel. I have been thinking about this idea for several months and I kept finding excuses. Finally, I decided that I am done with excuses and that it is time to start with some action. 
You can check out my YouTube channel and I am very grateful for every subscriber that I get – you keep me motivated to bring to you even more embroidery projects:
Please, let me know if you have any more questions. If you would like that I write more about Youtube SEO or editing video tools for phone/camera, please let me know in the comments.
Stay safe & healthy,
Vesna
PS1: Check out Craftsy's Free Classes!
PS2: you may also like this: