This page may contain some affiliate links. If you decide and purchase through there will be no additional cost to you. I will appreciate it because you help me support my business. Sharing is caring <3
As you know, I am passionate about embroidery and beads. Some of my friends have been asking me how to start embroidery as a hobby. I have suggested them to start with beginners DIY Embroidery Monstera Kit – because they are women and also flower & plant lovers. This kit has 4 flower & plant motives to choose from. Perhaps you will find an interesting idea for your next gift for your crafty friend or loved one.
| Name | Description |
| --- | --- |
| Seller | Bangood |
| Product | DIY Embroidery kit – 4 motives |
| Price & Shipping | Check for price HERE |
| Shipping time | aprox. 3 weeks (to Slovenia, Europe) |
Pros and Cons of Beginners Embroidery Kits
As with any product, there is a list of Pros and Cons for Beginners Embroidery Kits.
Pros
Four different patterns: you have several different plant patterns available: monstera, cactus, four lear lucky clover and red flowers.
Embroidery threads, hoop and needle are already included in the kit – you can open the package and start your project – perfect beginners kit.
Instructions on how to embroider your Monstera plant are also provided.
BONUS: the pattern is already printed on the embroidery cloth. The pattern will fade off after you wash the finished embroidery.
You have several different options on how to use your embroidery – as a wall decoration, sew it on to your favourite bag or jacket – I have ordered my monstera embroidery kit and will share with you where I used finished embroidery.
Cons
It took 20 days to arrinve. This is still fairly quick – some packages that I ordered from other online stores sometimes took 4-6 months to arrive.
Update
I have purchased Monstera Embroidery Kit (30.09.2020) and it has arrived on 20.10.2020. (it travelled 20 days from China to Europe, Slovenia). I was super excited when it arrived and I could not wait to open it. Product was packaged very well so it was not damaged during transportation. Here is a post about my opening of the package and my first thoughts and here is also my finished Variegated Monstra embroidery.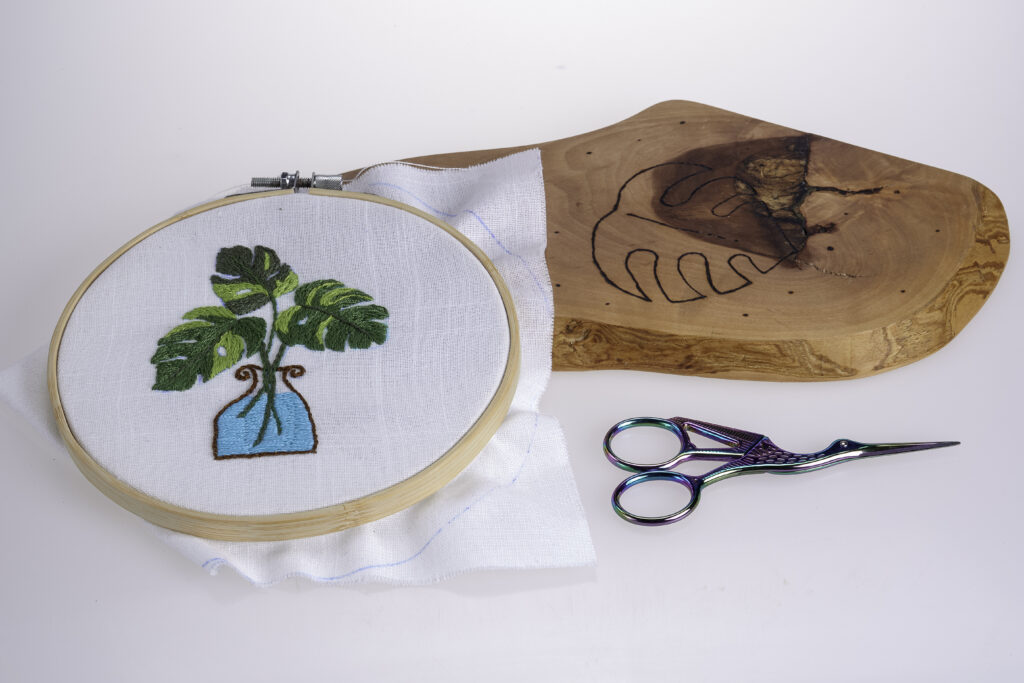 Conclusion
To sum up, this looks like a great starters kit for beginners – to try and see if you would like to take embroidery hobby further. It is also a perfect idea for upcoming Christmas holidays for crafty kids.
Thank you for supporting my business by purchasing through the links on this page!