December is around the corner, so I have started looking for ideas on how to embroider some cute ideas in different areas to bring the Christmas spirit into our family home. I really like creating handmade Christmas cards or bookmarks – but this year will be the first time that I use embroidery on them. If you wish to try something new this year, please, join me and try these free Christmas patterns for hand embroidery gifts.
If you are new to embroidery, you can read my blog on 5 Basic Hand Embroidery Stitches for Beginners. This post will help you learn basic stitches and you can create most of the embroidery gift ideas I share with you here.
Snowflakes tutorial – put it where you want it
This is a step by step tutorial on how to create the perfect snowflake from Wandering Threads Embroidery – you can find the tutorial HERE.
Stitches that you will need:
Super simple beginners project that you can put on your favourite winter sweater, T-shirt, jeans or denim jacket, phone case sleeve.
Minimalist Spruce Christmas card
This is super cute embroidered Christmas card is my own design. We were making Christmas cards with kids and I got this idea for a minimalist Spruce Christmas card.
Stitches that you will use:
I used a needle, thread (colour of your own choice), harder paper, scissors, scotch tape and a regular compass (for making holes in paper).
Step 1: draw / print your pattern in the size you need. Put cardboard or cutting board under your Christmas card paper, put a design on top of it. Make holes with a compass or needle.
Step 2: Cut the thread you have selected and start in the centre of your design. I used scotch tape to secure the thread. Embroider the lines of spruce. Use scotch tape when you finish the design or need to change to a new thread.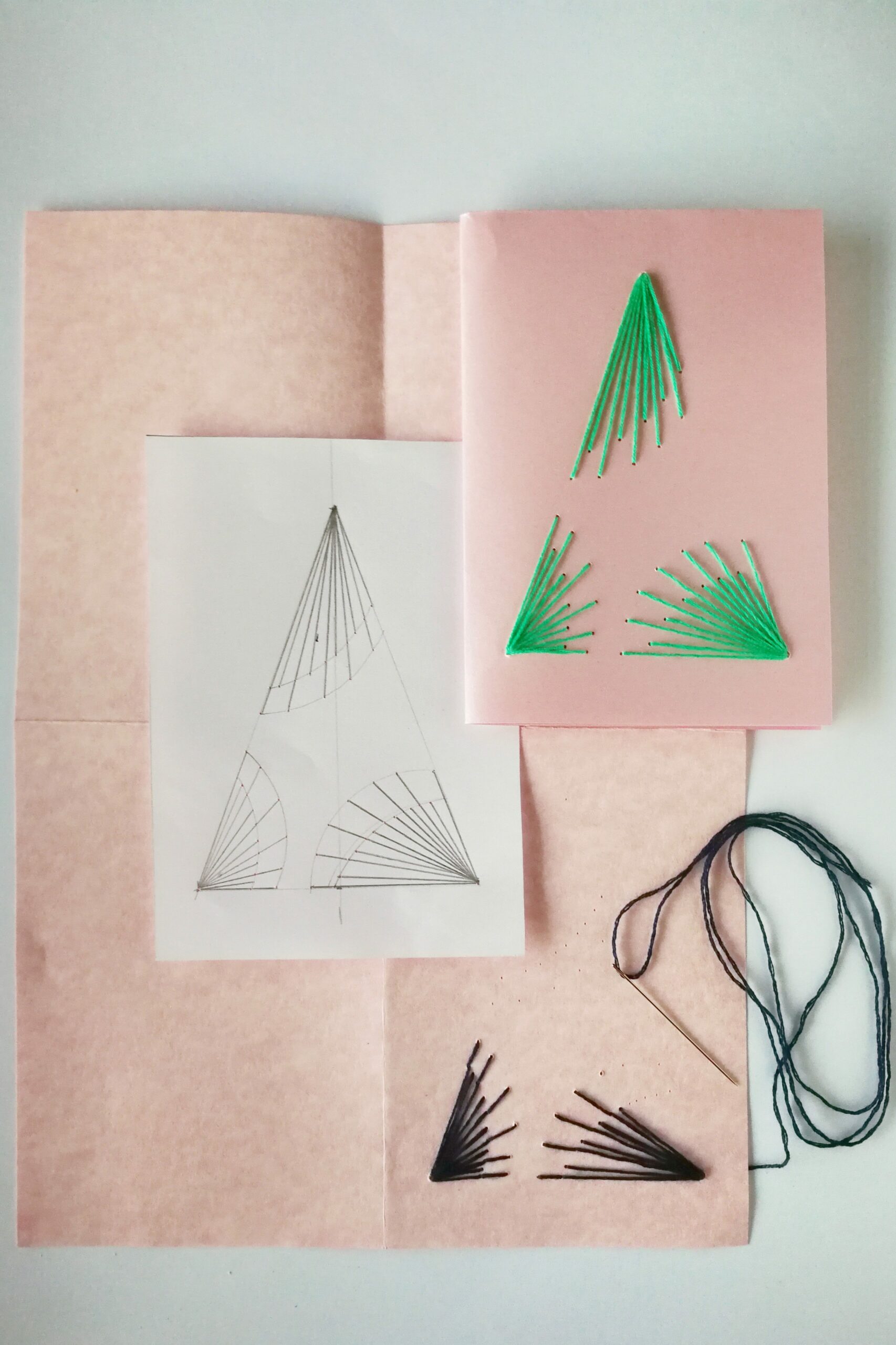 Step 3: Add additional embellishments if you wish. Congratulations, Your Embroidered Christmas Card is finished 🙂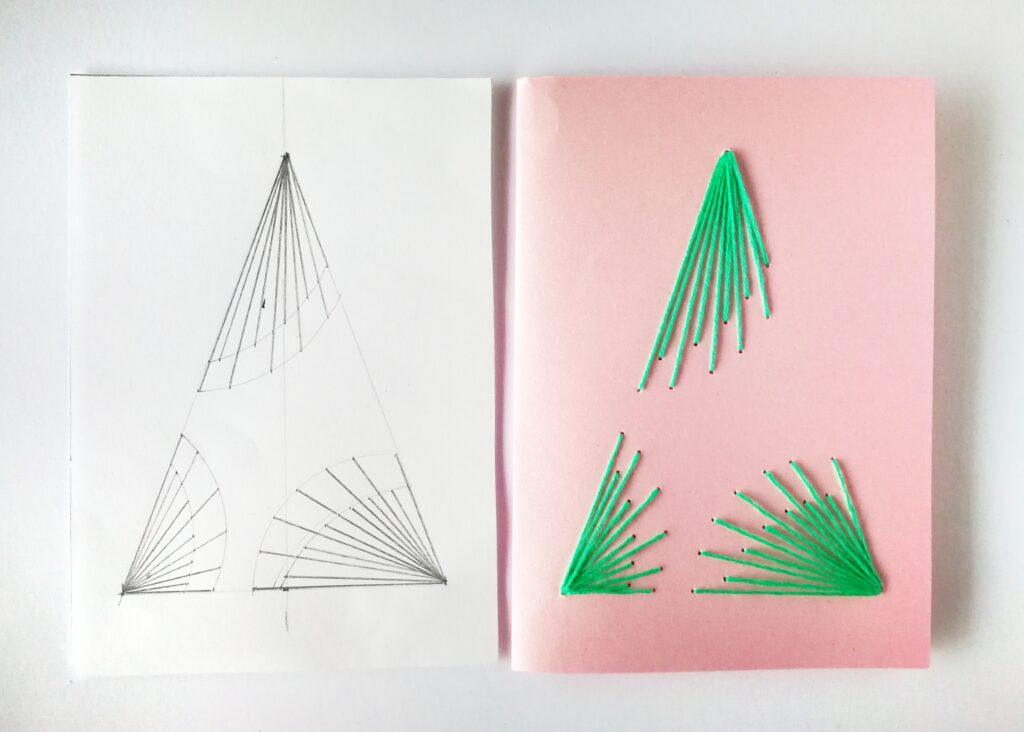 Polka Dot Christmas card
This is a super cute embroidered Christmas card from Spruce Crafts with a free template HERE.
Stitches that you will use:
woven rose stitch,
wrapped stitch.
Here are used only two different green strands, but you can use colours of your choice. I will probably make some Polka Dot greeting cards this year to send to my family and special friends. You may find this perfect way to start practising new stitches.
Starry Night Christmas Tree Hangings
This beautiful Christmas tree ornament is available as a free pattern from the Anna Scott blog.
Stitches that you will use:
satin stitch,
detached chains (lazy daisy),
stem stitch.
You can use materials that you have at home. This instruction also comes with step by step pictures of the process of how can you make your own Christmas tree hangings – is a perfect beginners project to create your unique Christmas tree embellishments.
Small Christmas Tree Table Decor/Hangings
I found a free PDF pattern for these super cute small Christmas trees on the Anna Scott blog.
Stitches that you will use (it depends on which of these three Christmas trees will you decide to make):
detached chain (lazy daisy),
pistil stitch,
whipped backstitch.
Minimalist Spruce Christmas card
When you download the PDF, you will get all instructions that you need to make any of the three Christmas trees. You can also decide if you wish to make table decor or add a hanging loop on top and turn them into Christmas tree hangings.
I think this is a great project to use your small pieces of cloth and that this is a beginner to intermediate project.
I found a free Pattern for embroidered Christmas Cone – this one is definitely not a beginners project, but I really like the end result.
You can follow the process of embroidery here on the Malina Youtube channel HERE.
Stitches that you will use:
Stem stitch
Slip stitch
Cast-on stitch
Christmas Tree Embroidery Pattern 
I found this great Christmas gift project – you can put this cute Christmas tree on napkins, kitchen towels … Deborah Schlegel will guide to step by step – from start to finish. If you are handy with a sewing machine, Deborah is also sharing how to make your own napkins HERE.
Stitches that you will use:
Which are your favourite Christmas gift ideas?
Please, let me know which of my suggestions you like most – Christmas cards or ornaments or napkins… I will make some Christmas cards and tree ornaments. I hope you have enjoyed going through my ideas and collection of free Christmas patterns for hand embroidery gifts.
If you decide to be creative this Christmas, please, post here and share. Perhaps some of your ideas will give someone else a new inspiration for creating. 
Stay safe & healthy,
Vesna