Are you looking for new ways to promote your embroidery products and business? Pinterest is definitely a great business opportunity that is FREE to use. It is a very popular platform among all crafters and also our potential customers that are looking for something new and unique. Here I will share with you step-by-step Tutorial How to set up Pinterest Business Account for Embroidery business.
This post may contain affiliate links. Please, see my full disclosure policy for details.
Why set up Pinterest Business Account?
According to statistics in March 2020, there were 335 million people using Pinterest every month. Most statistics are made for the US market so if they are one of your targeted audiences, it is very good for you to know that Pinterest is now the 3rd largest social network in the US. Most of these users log in to the platform once a week and some of them are definitely looking for gifts ideas and places where to purchase their gifts. That makes Pinterest an awesome tool to promote your products.
How to set up a Pinterest Business Account?
Step 1: Create a Pinterest Business Account
If you want to set up your Pinterest account you need an email. I use Gmail emails for my Business, but I think that Pinterest takes email addresses from other providers too.
BE CAREFULL! It is of utmost importance that you click on CREATE BUSINESS ACCOUNT! The business account offers additional options that are not available with a personal Pinterest account. And we want to scale our business, remember?
In next step you input your email business and password. Password for Pinterest can be different from email password.
Step 2 (optional): Add your cover photo & Logo
You can make your own cover photo or Pinterest will generate it from your pins. I will just leave it empty and Pinterest will fill it with my pins.
Step 3: Create 3-5 Pinterest boards 
I would suggest that you start creating your boards with topics that are related to your business. We are talking here embroidery, so here are some of my ideas for different Pinterest boards:
Idea 1: Embroidery Necklaces
Here you will find fresh and unique ideas for your next project or purchase.
Idea 2: Embroidery Earrings
Looking for a new set of earrings to buy or DIY? You are on right board 🙂
Idea 3: Embroidery Business Tips
Collection of useful tips and advice to scale Embroidery Business
Idea 4: Embroidery Supplies
Everything about embroidery supplies and threads in one place.
Idea 5: Embroidery Tutorials
Looking for different embroidery techniques and tutorials? Here is my collection of my favorite and most often used.
Pinterest also suggests you different boards and you can select them from them.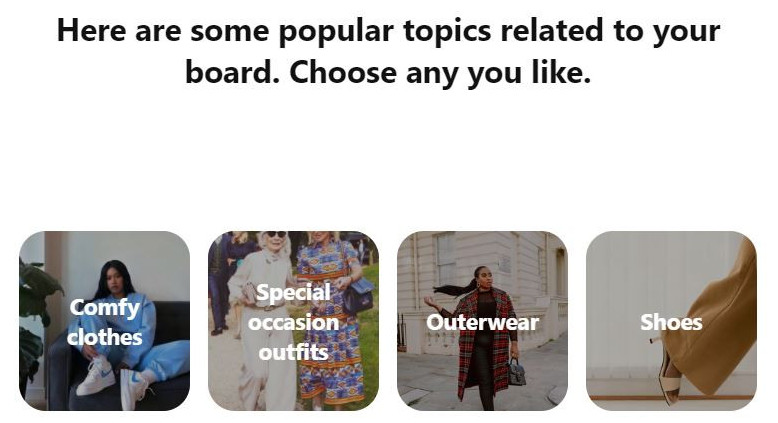 Step 4: Create your first pin
To make your first pin, you will need:
photo or short video
link to your product in online shop or blog
I make my Pins with Canva – they have amazing templates and most of them are FREE! You can sign to using Canva HERE.
Here is one of examples, how I create my own pins with Canva (I use Free Canva account and it serves me well).
Here are some useful tips:
Pinterest likes images that are higher – they show more in Pinterest feed
Pinterest already has options to pin it right away or schedule it for later
fill out BOTH – title and description. This also makes it possible for others to repin your beautiful products and other services that you will write about and pin them to Pinterest.
Step 5 (recommended):  Claim your Website & social channels
I would highly recommend you not to skip this step because, if you claim your website and social channels, you get credit for all your content on Pinterest. Other people may repin your products and with this step, you keep your credit.
You can claim following:
websites
Instagram
Etsy
YouTube
Step 6 (optional):
Automatic schedulers
I will probably write about them in a separate post. I definitely recommend using them, if you wish to scale your business. Pinterest wants their pinners to be consistent and – at least for me – the easiest way is to use a scheduler. I am currently using Tailwind and I am recommending it. It is very easy to follow, and Tailwind also provides small clips where they share how to make most of their software. If you want a Free Month of Tailwind CLICK HERE.
Did you successfully set up your Pinterest Account?
If you have decided to promote your business on Pinterest, I hope my step-by-step tutorial was easy enough to follow. I hope that you find my tools for making new pins useful – I use them regularly because I am not a graphic designer but I love creating beautiful pins. I have shared several ideas for Pinterest boards, but the best way is to go to Pinterest, type in a phrase that you are looking for and then you will see what are others using. Just take your pick and use what works best for you. If you wish to discuss your Pinterest board ideas, please, let's continue in the comments 🙂
If you wish to read more about Pinterest topics, please, let me know in the comments. Pinterest offers a lot and I cannot share everything in one post 😉
Happy creating,
Vesna
This post may containsome affiliate links, which makes it possible for me to write free tutorials that will help you scale your online embroidery business.
PS1: Check out Craftsy's Free Classes!
PS2: you may also like this: