Welcome to my page. I will be discussing here my knowledge that I have gained since I have been a child. I was always interested in different crafts, so I have knowledge from several different fields. My main focus will be embroidery – tutorials, materials, and supplies that are needed for you to create your perfect project 🙂
MY EMBROIDERY JOURNEY HAS STARTED IN 2018…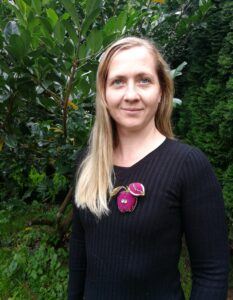 …when I had a knee injury that left me home for 3.5 months. I always said that I do not have time to learn bead embroidery and that bead embroidery is too expensive for me. In those three months, I finally started to read about bead embroidery, and I found the courage to start learning these new skills. I owe a lot of thanks to my friend Olga Teague. She gave me the push that I needed. She also gave me tons of advice during my first project, which was Small Reef Pendant from @pikapolina.
After I finished my sick-leave, I went to Apollinarya on private lessons for her Phoenix brooch/pendant tutorial – she corrected some of my beginner mistakes.
In 2019 I had to go to surgery for my knee. Then COVID-19 happened. The whole world was getting mad and no-one knew what was happening. But I saw an interesting shift in the embroidery community. I was following several embroidery masters (Guzel Bakeeva, Irena Gasha, Pikapolina, Inga Marita, Valentina Telpiz…**)  and suddenly some courses that were only available to take in their studios were turned into online courses. I will be sharing my experience on several different online classes in my blog. This will be my personal opinion and part of my investment in my knowledge to become better at different embroidery techniques.
LET US EXPLORE WORLD OF EMBROIDERY TOGETHER
I wish to share with you my passion for embroidery and a variety of different techniques that are available inside this beautiful hobby. I usually learn new techniques on brooches – these projects are fairly quick to be finished and the results are beautiful (you can expect a lot of embroidery tutorials). You can sell them in your shop or give them as gifts for special occasions for your loved ones.
I really like embroidery because of its versatility. You can make pendants, brooches, earrings, handbags, or decorate your clothes pillows. The imagination is the only limit here. I wish to further explore it inside my blog.
HOW TO MAKE EMBROIDERY PROFITABLE?
I have set myself a goal this year. I wanted to stop calling embroidery a hobby and start turning it into the business. When I started to google this topic, a phrase started to repeat – affiliate marketing. So I kept digging – what is affiliate marketing? How can I make it work for myself? During this online research, I discovered Wealthy Affiliate.
I did not quite understand how it works, so I checked out few reviews. I decided to join, because it is free – you can join for FREE here.
They also have the possibility of website hosting HERE – their SiteSupport is very good. I have my pages also running there.
Wealthy Affiliate has an Online Entrepreneur Certificate course – here I have learned about blogging (yes, I had to learn everything from scratch) and affiliate marketing. If you have any other questions, please, let me know in the comments.

THE SKY IS THE LIMIT
I will share with you when I find an interesting embroidery marathon (a lot of them are for free), where I buy my supplies and what do I use to achieve results that I like. I will also provide my honest about different online classes that I have participated in with different teachers in the hope to inspire you, how you can take your embroidery knowledge on another level.
You will also read about embroidery business – how to make better pictures & how to set up an online shop with your embroidery products. Upcoming topics are also SEO and Google Analytics.
If you ever need a hand or have any questions, feel free to leave them below and I will be more than happy to help you out. I hope that you will join me on this exciting journey, where we can share our passion for embroidery and beads <3
All the best,
Vesna
Founder of https://myembroiderypassions.com
(email: vesna@myembroiderypassions.com)
* Some of the links in this post are affiliate links. This means if you click on the link and purchase the item, I will receive an affiliate commission at no extra cost to you. All opinions remain my own.
** IMPORTANT NOTE: my knowledge of the Russian language is very limited. On course teachers speak in Russian and show very clearly what are they doing. If I had some problems, I communicated with them with messages in English.