I have been looking at posts Poppy Flower brooches for a long time. Inga has been teaching them only in private lessons. I was filled with questions – which materials they use? How are the flowers assembled? When Inga has announced that she was turning her individual master class into the Poppy Flower online hand embroidery class, I was surprised and overwhelmed.
I decided to enrol and go with the flow – to try and learn as much as I can because this process has intrigued me for several months. Here I will be sharing my experience and finished brooches that are the result of participating and working along.
Introduction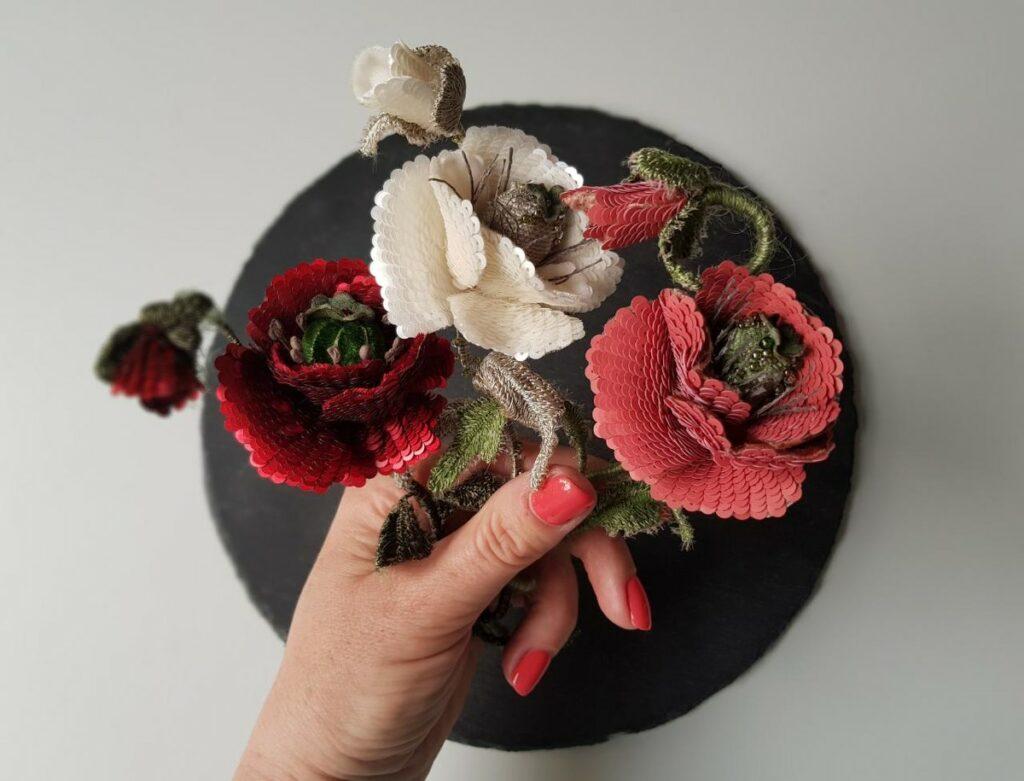 | | |
| --- | --- |
| Name of course | Poppy Flower Online Hand Embroidery Class |
| Finished product | Poppy Flower Brooch |
| Teacher | Inga Marita |
| Duration of course | 2 months |
| Level | Adventorious Beginner & Intermediate |
| Language | Russian and English |
| Price and Availability | Check for price & availability HERE |
Who is this course for?
This course is for adventurous beginners and intermediate students  – some previous knowledge is already expected.
This course can be done with a needle or with a luneville hook. Luneville hook has a huge advantage here because you will finish your product faster than with a needle. 
Why Should you take this course?
If you wish to learn how different techniques and possibilities of embroidering & assemble Poppy flower. There is a bonus – Inga has taught us also how to design our dream flower and turn it onto a brooch.
This course covers many different techniques. Sewing is clearly displayed, so I could finish my brooch very well, even though I am not fluent in Russian **.
My experience Poppy Flower Online Hand Embroidery Class *
I have been following Inga's work on Instagram for some time. I have seen the beautiful flowers that Inga has taught and her students have shared their beautiful finished brooches on Instagram.
After entering the course we had 14 days' time to prepare our materials. The day that the course started, we got the template for flower in PDF form.
Inga has shared her lesson 2-3 times a week in a closed Instagram group and has also answered questions from students. She was sewing live with us and recording was available for 24 hours on Instagram (Instagram now has the option to save video until the end of course).
We have covered embroidery, how to model the 3D shape of a Poppy flower, sewing of beads, and sequins. She gave advice on choosing matching colours. She explained in great detail how to assemble all pieces together firmly. There were also tips on how to decorate Poppy flower to look more gentle and delicate.
This was one of the more challenging courses for me personally because of all the pieces that need to be assembled together for Poppy flower.
Sometimes Inga also organizes the pumping after the course is finished – this is actually an extra month, where Inga provides us with an additional set of instructions – for me personally, – this was an additional boost for my creativity. I was inspired and surprised by how many different possibilities can come out of one design.
My finished Poppy Flowers
If you wish to see more beautiful Poppy flower brooches that were created in our group, you can go to Instagram and check out this hashtag: #makotkoutur_mk 
If you like my blog and embroidery work, I would be very honored if you would also consider following my YouTube channel 🙂
* I have written this review based on my personal experience as a student in the online class.  No one has sponsored or paid me to write this review.
** This course is currently available in Russian and as a self-paced course in ENGLISH (time of writing March 2021)
PS1: you may also like this: