I would like to share with you my personal experience of participating in advanced Luneville technique Rose Brooch Hand Embroidery Online Class that was held in a closed Instagram group with teacher Inga Marita. This class has given me more confidence using Luneville hook and given me more insight into different materials that can be used with my future projects.
If you are a beginner in Luneville technique, then I would recommend you to start the first beginner Luneville technique classes that Inga also offers, for example, Fox Luneville Hand Embroidery Course is also available in English.
When I first saw the photo of Rose brooch that she has shared I have fallen in love with it – how gentle and delicate it looks, with leaves captured in lace.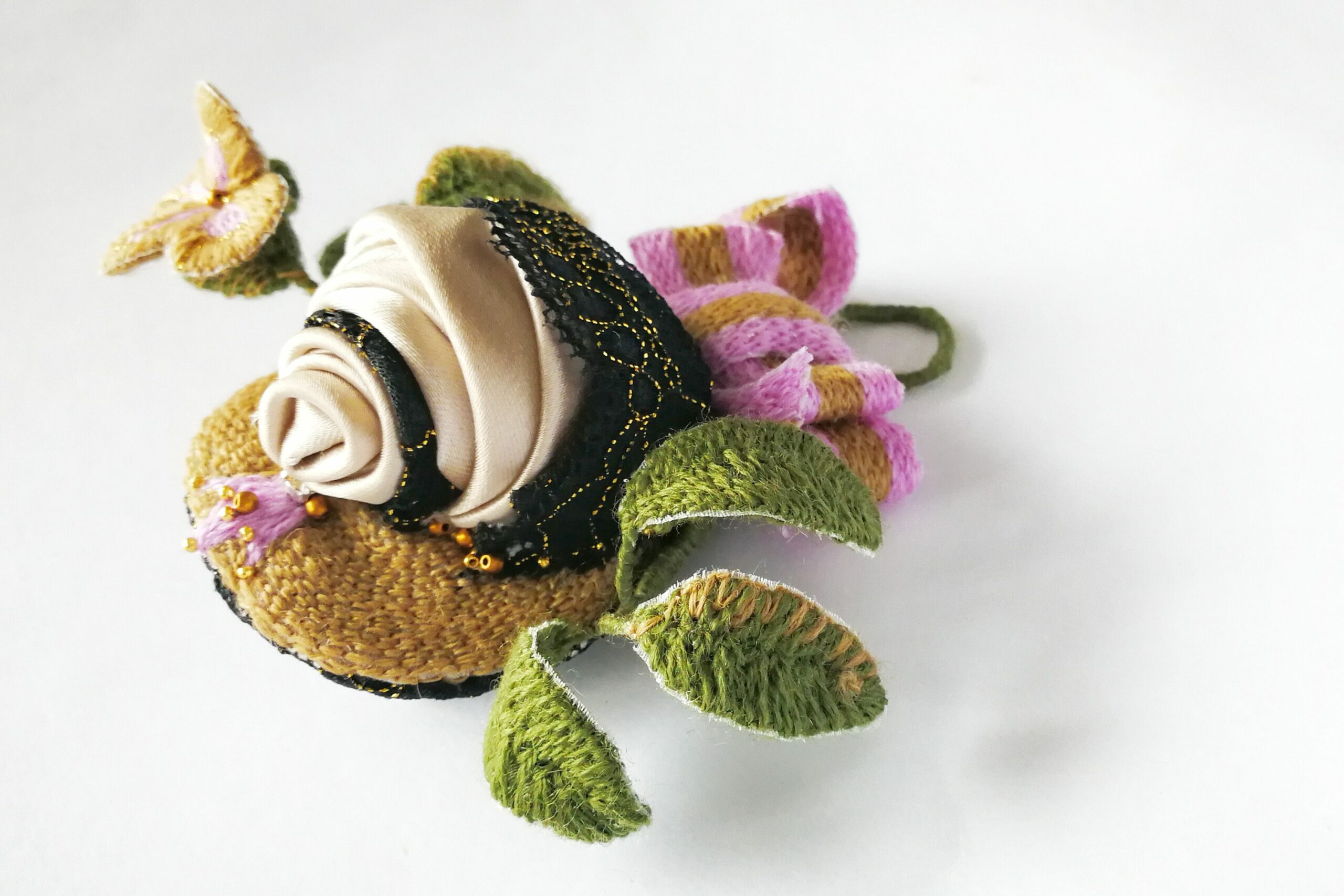 | | |
| --- | --- |
| Name of course | Rose Luneville Hand Embroidery Online Class |
| Finished product | Rose Brooch |
| Teacher | Inga Marita |
| Duration of course | 2 months in the closed Instagram group, all lessons were available to watch and finish Rose Brooch |
| Level | Advanced Luneville Embroidery |
| Language | Russian |
| Price | Check for price & availability HERE |
My experience *
I have taken several courses with Inga Marita. In this course, she promised to teach us advanced techniques using Luneville hook technique and she has delivered on her promise. I never imagined what can be done using a hook, patience and willingness to learn. The course took place in the closed Instagram group, where we got all the instructions about materials that we will use before the course started.
I have purchased my threads (100 % merino wool) from @milano_embroidery_shop – the threads were perfect for my Luneville hook and for me it was also very important that shop is in EU (because of custom costs). Olga is very nice and she will give you good advice.
I had lace, fabric and beads from my previous projects 🙂 I was very happy because I was able to use most materials that I already had in my stash – ordering new supplies during COVID-19 and waiting for parcels to arrive takes approx 1 month or more.
Inga has shared with us her inspiration and tips on how to upgrade the Rose design. My favourite touch was the little crown on top of the Rose – that has really inspired me. I have attached the small butterfly to the leaves and the bow has added the final touch. I am now officially adding lace to my future designs because it gives a delicate and feminine look to the finished product.
Recommendation
Yes, I recommend it very much – it was worth the money. This course covered many different materials that can be used. Sewing was clearly displayed and all of my questions were answered in English by the teacher. When you finish your online class and provide teachers with photography of your finished work, you also receive a certificate. This was a complex project and I am very proud to finish it.
* I have written this review based on my personal experience as a student in the online class. No one has sponsored or paid me to write this review.
PS: You may also find it interesting: