Do you know the feeling? When you are looking for a fresh hand embroidery design pattern and you cannot find it? The frustration and lack of energy? The feeling of hopelessness?
That's why I like to use Instagram and I follow several artists there. I often look for inspiration for my embroidery work. I found the latest post of Nini's drawing and I really liked it. That is why I decided to write to her and collaboration with Nini started just like that. Totally unexpectedly.
Step 1: Nina published her amazing picture
I was browsing on Instagram and saw the latest post of Nini on Instagram.
If you would like to know more about her work, you can check out @nina_spolar_nini's Instagram profile and blog.
You can check out more of her work on her profile and under hashtag #designbyninaspolar. You will be surprised what you will see there.
Step 2: We decided to collaborate
I have sent her a DM and she replied  🙂 I am very grateful to her that she was excited about collaborating with me. She has sent me her drawing and I started to develop my ideas on which colours and stitches I plan to use.
This will also be an upcycle project. I have been planning to make a tote bag from old pair of jeans. I think it will be an amazing addition to also add art embroidery design to it.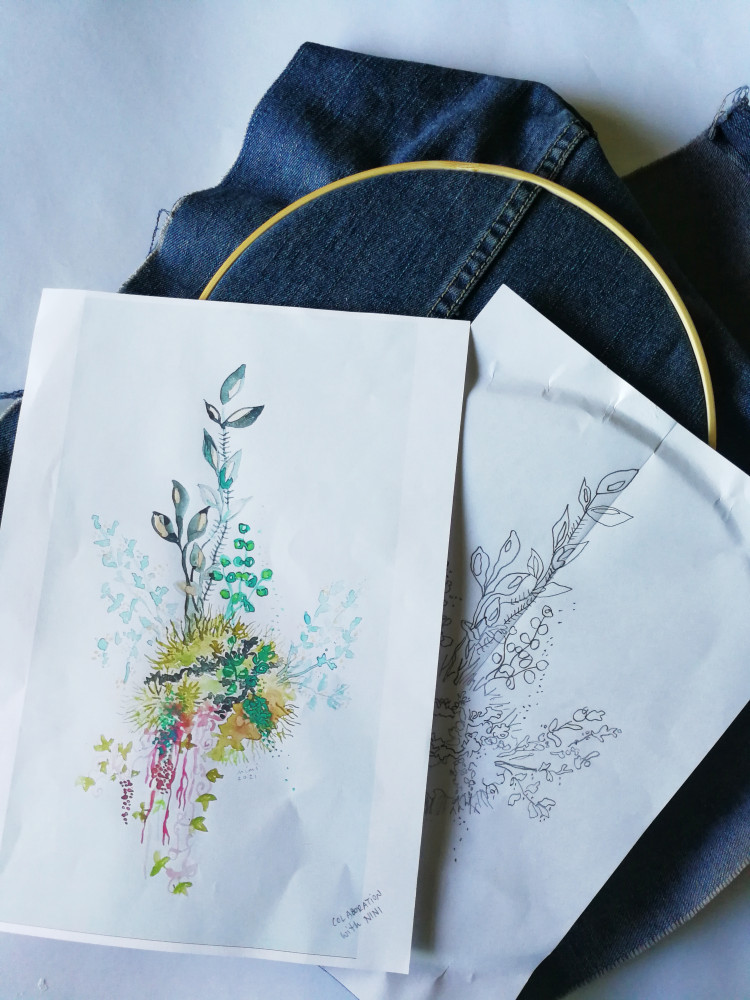 Step 3: I transferred the pattern
My usual pattern transfer techniques have failed, so I had to try a new one. I used a pencil to draw the pattern on very thin transfer paper. I used small pins to attach the transfer paper and I have started to embroider on it.
Step 4: I started to embroider 
I have seen places where I want to use French knots. I have also selected an area to use a Padded silk Stitch. Some stitches I choose as I go. 
You can check out my work under hashtag #myembroiderypassionscollabwithnini and I am adding my progress daily.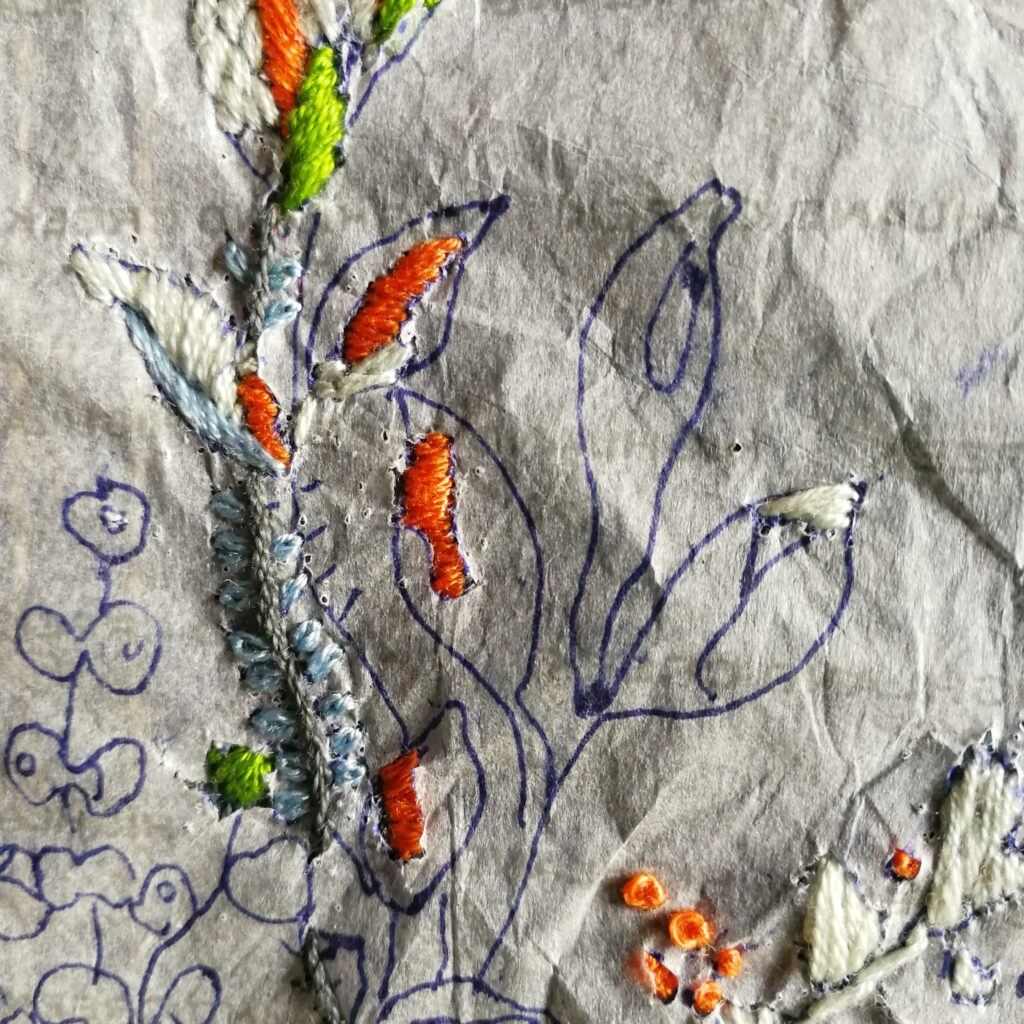 If you prefer to watch the embroidery process, can also check out short videos of my embroidery progress on my TikTok account 🙂
Step 5: Hand Embroidery Design Pattern – revealed part 1
I have finished first part of my work and I have decided to take off the paper to see how it looks.
I can share with you my Favorite stitches that I have used here: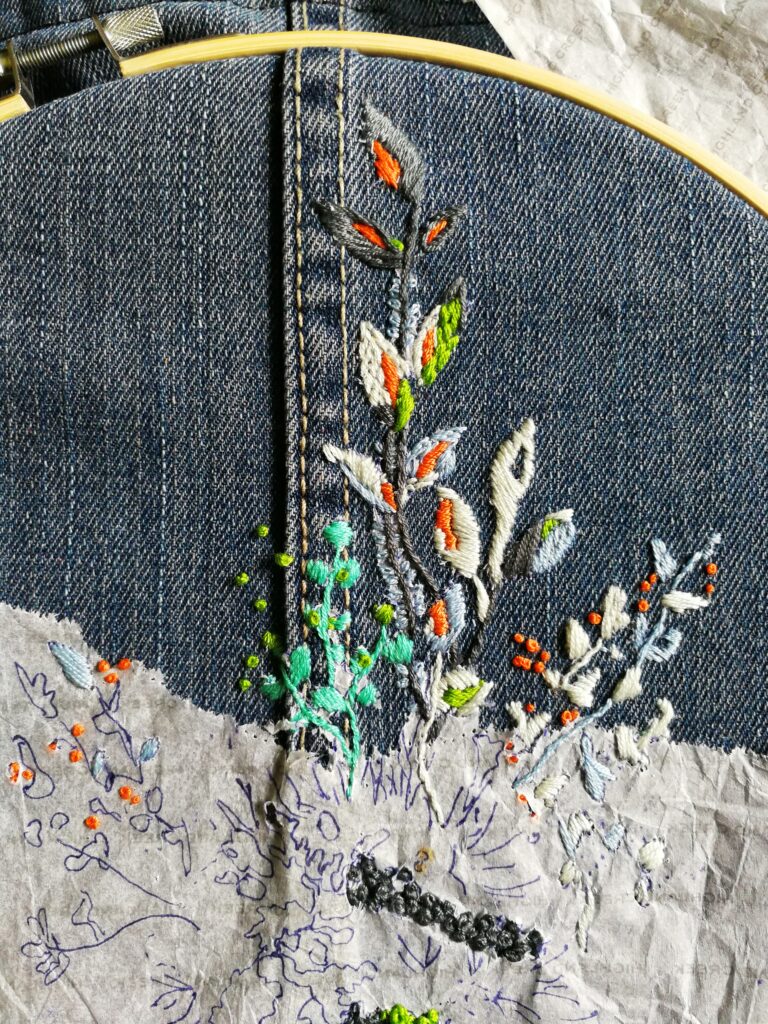 Conclusion
This post is not finished yet. I will share with you my finished tote bag. Please, come back to check out the finished result and we have finished our Hand Embroidery Design Pattern and Collaboration with Nini 🙂
You can also check out the post on How to Sew a Hand Embroidery Flower Design Purse | Free Tutorial. I found a beautiful Lotus image on Pinterest and I have made my own embroidery interpretation. My finished result is the small purse that I carry it everywhere I go 🙂
Until next time I wish you all happy creating,
Vesna