I would like to share with you my personal experience of participating in online course Velvet embroidery Apple that was held by Ina Marita in February 2020. She has now made available this online course on her official page (HERE).
If you like apples and you wish to learn how to make 3D volumetric shapes – then this is a course for you. Here I have learned how to apply same technique that was used on apple also on other fruits.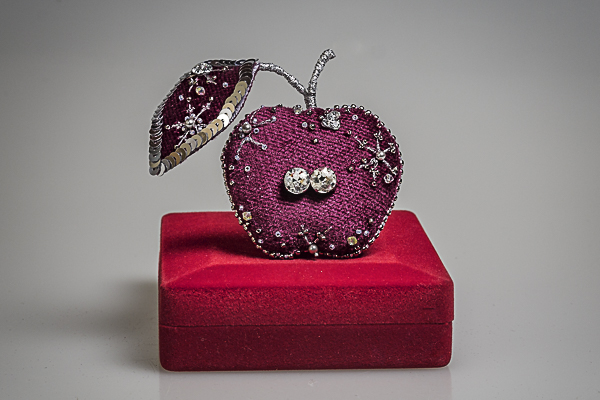 | | |
| --- | --- |
| Name of course | Hand Embroidery Velvet Apple |
| Finished product | Velvet Apple brooch |
| Teacher | Inga Marita |
| Duration of course | 1 month + bonus pumping (1 month of exploring creativity inside us under Inga's guidance) |
| Level | Beginner |
| Language | Russian and English |
| Price | Check for price & availability HERE |
My experience *
I have found the Velvet Apple course on Instagram. I don't speak Russian so I have contacted teacher Inga Marita if she will accept me into the course. She said she will, but that she will not speak in English during the course. If I had problems, I wrote to her and she replied. We had 14 days' time to prepare our materials. The day that the course started, we got the template in PDF form.
Inga has shared her lesson 2-3 times a week and has also answered questions from students. She was sewing live with us and recording was available for 24 hours on Instagram (Instagram now has the option to save video until the end of course).
We have covered embroidery, how to model the 3D shape of an apple, sewing of beads, and sequins. She gave advice on choosing matching colours. She explained in great detail how to assemble all pieces together firmly. There were also tips on how to decorate apple to look more gentle and delicate.
Recommendation
Yes, it was worth the money. This course covered many different techniques. Sewing was clearly displayed, so I could do brooch very well, even though I am not fluent in Russian **.
(If you wish to see more beautiful Apples that were created in our group, you can go to Instagram and check out this hashtag: #яблокооткутюр_мк )
* I have written this review based on my personal experience as a student in the online class.  No one has sponsored or paid me to write this review.
Velvet Apple Collection
The result of pumping is a collection of Velvet Apple brooches. I still make them when I have inspiration, you are welcome to check my EP shop, all products there I have made by myself and are the result of online classes that I attend to further develop my skills.
PS: You may also find it interesting: