I really like mandala patterns for a long time. I like to colour them and some are simpler, others are more complicated. It feels like a mini-meditation procedure when my colour pencils quickly run over the pattern on paper. I like the smell of paper. In my opinion, the computer can never substitute this smell. I will be sharing process of how I embroider my Mandala by Hand in this post, so it will be growing in time. Please, come back to check on my progress.
Inga Marita has started this idea on her Instagram profile. She has shared one of her beautiful Mandala work, so you can see one of the possible mandala results that can be embroidered.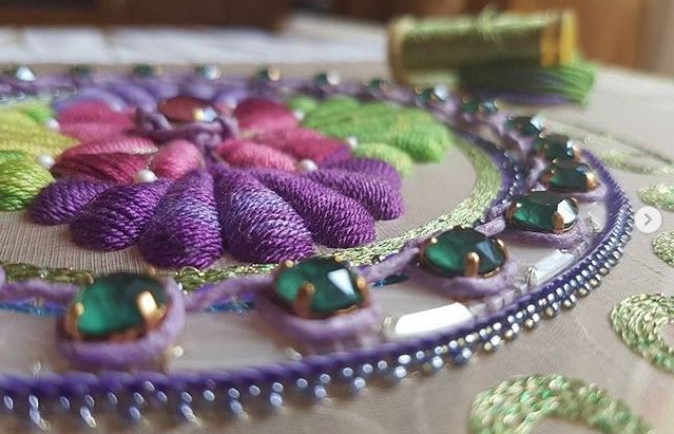 Definition of Mandala – (in Jungian psychology) a mandala as a symbol in a dream, representing the dreamer's search for completeness and self-unity.
I will learn and listen to my inner voice – to embroider my dream Mandala and try to reach my inner self during these hard COVID-19 situation and our second lock-down in Slovenia.
Week 1
This page may contain some affiliate links (please read my full disclosure). If you decide and purchase through there will be no additional cost to you. I will appreciate it because you help me support my business. Sharing is caring <3
Step 1: Choose your Mandala Pattern
HERE you can find Inga Intro to Mandala Embroidery (it is in Russina, I know, but maybe, you will learn something new. I like to listen her her voice it is so calming).
I went toPinterest to find my inspiration for Mandala pattern. Here is Mandala pattern that I have choosen, it has a lotus theme. I wish to embroider something with lotus for some time now and this is perfect opportunity to start it.

Here is the link to the original Author of Mandala Pattern.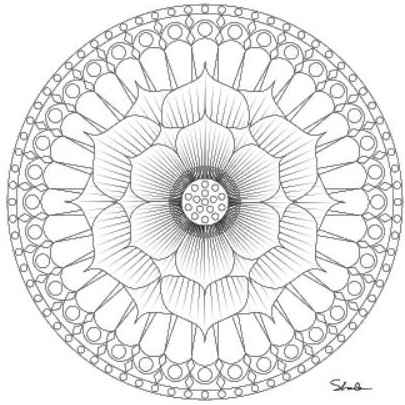 I also like her colored version, that you can find HERE.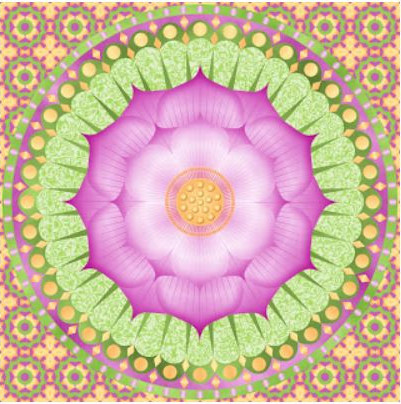 Step 2: Choose your materials & colors
Inga Marita's had shared with us her choice of Mandala pattern. She was also talking about her choice of colours and materials. She has shared her progress with us during November evenings.
Luneville embroidery technique is one of my favourites. I have been discussing this technique often with my friend Olga Teague. It took me a long time to build up my courage and to start learning it. I have taken a Basic Luneville Embroidery course with Inga and Katja – they have been very good teachers and you can read more about it HERE.
I have chosen my colours for the Mandala project. I will use as my main colours: yellow, purple, grey and black. I will see where will this process take me. 
Tools that I will use in my work:
- embroidery hoop (how to choose your hoop you can read HERE),
- organza (bought at my local store),
- different threads (bought some at my local store and some online HERE),
- needle (I got several new with my recently purchased embroidery kits for begginers),
- luneville hook (I purchased mine at Amazon *),
- scissors (I bought them HERE).
(*) As an Amazon Associate I earn from qualifying purchases. If you like my posts, please, consider supporting my work that I share for free and purchase something though my affiliate link.
Difficulty level: I will be making Beginner Embroidery Mandala but with 2 different skills
– embroidery and
– Luneville embroidery.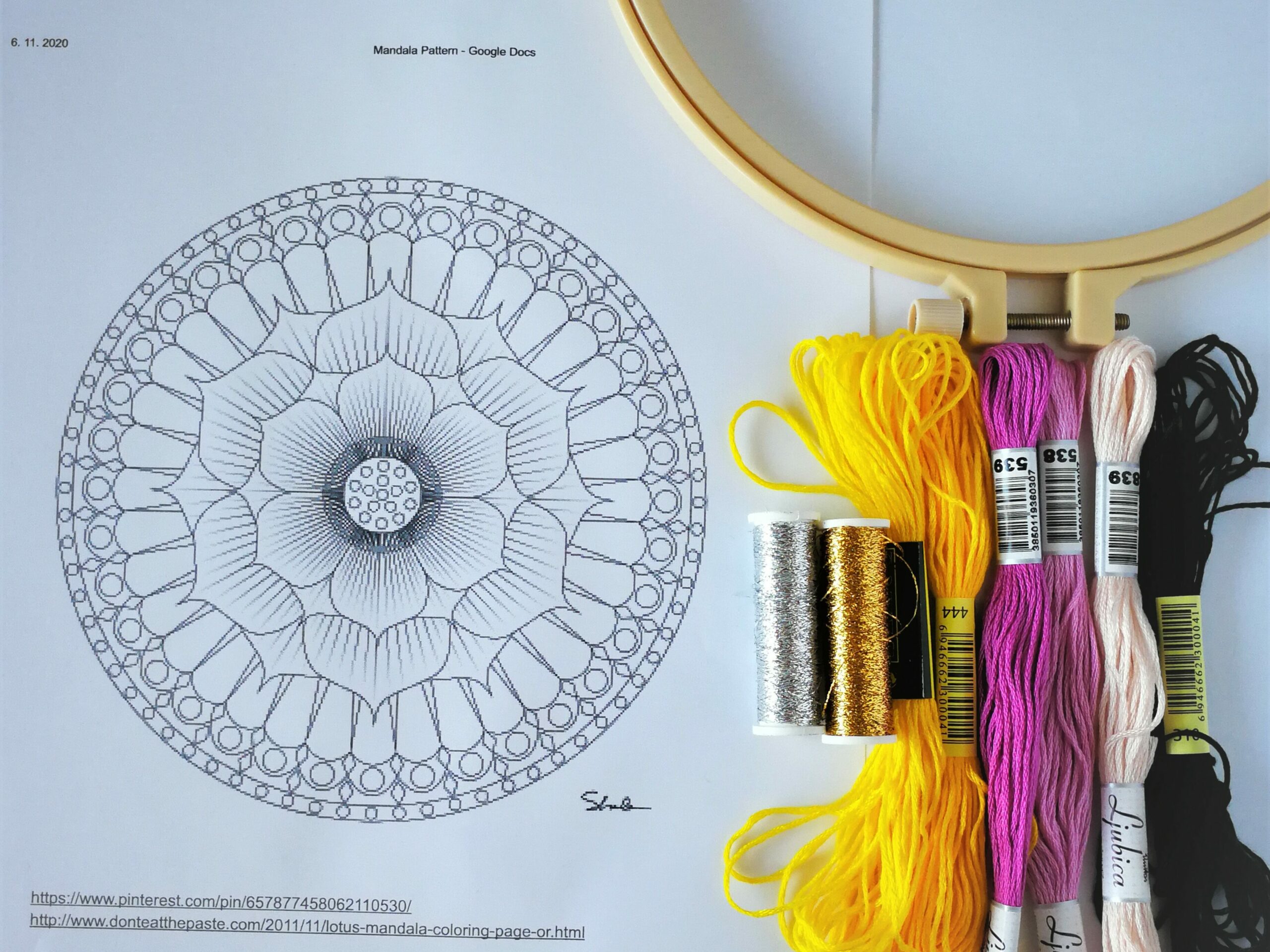 Step 3: Start embroidering your Mandala Border
I have transferred the pattern to organza with a white roller.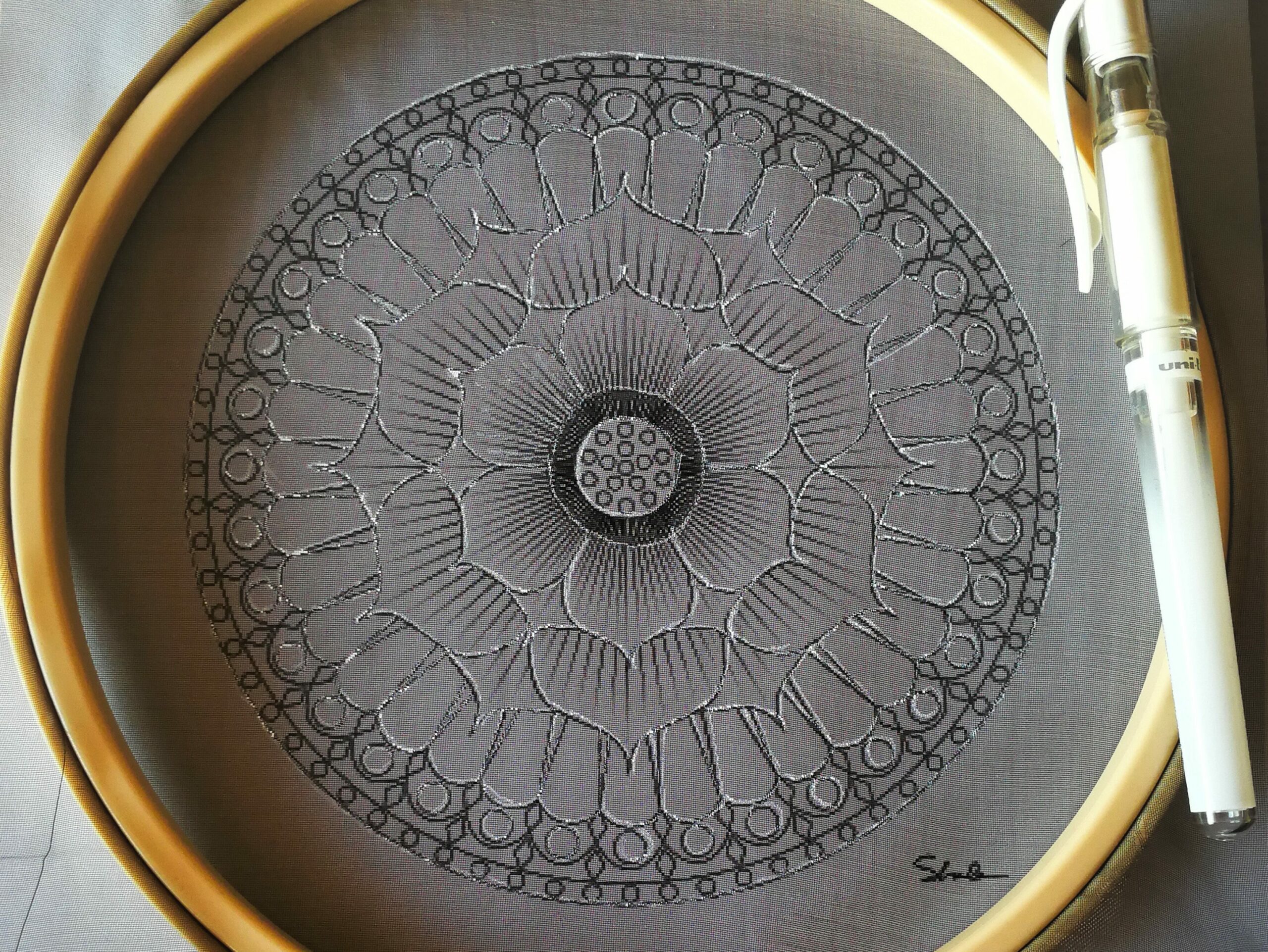 I started to embroider the borderlines of my mandala. I have decided to use the gold metallic thread on outside and black lace for the centre of Mandala.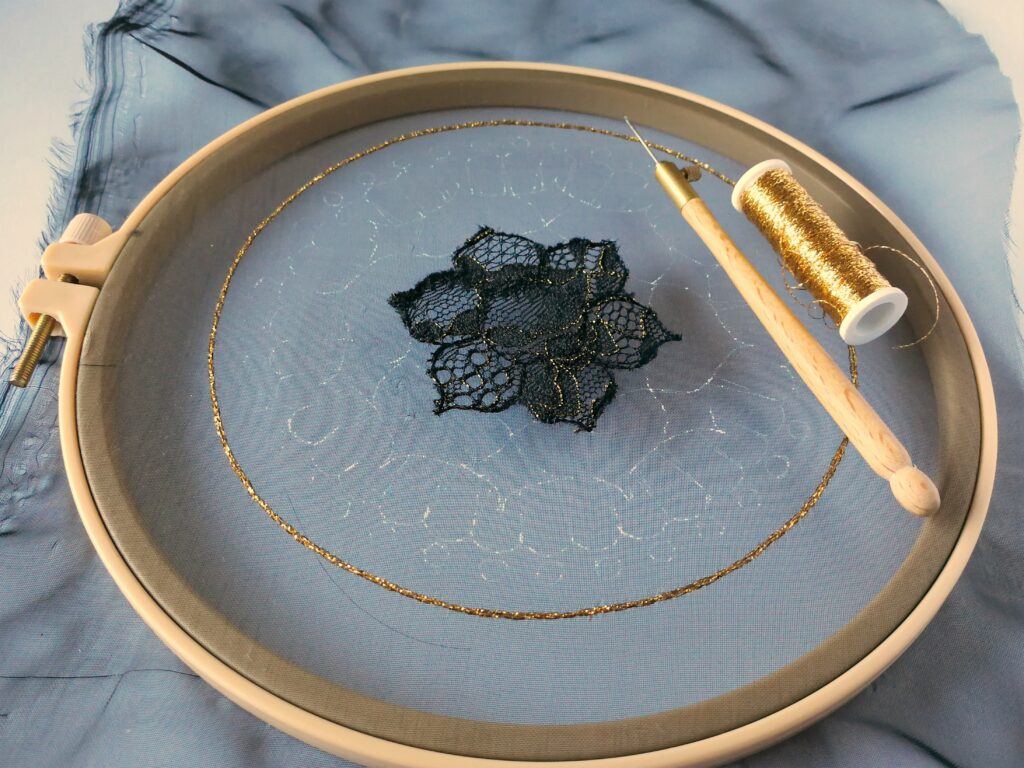 Week 2
Step 4: Embroider details in Vermicelle technique using Luneville hook
Inga has decorated leaves on her Mandala in Vermicelle technique – with this technique you can use also beads and sequins. Inga teaches this technique in great detail in her Beginner Luneville Embroidery Course.
Step 5: Embroider rose colour leaves details in satin stitch technique using Luneville hook
I have decided to make rose colour leaves using a satin stitch. Satin stitch can be done with a needle and also with Luneville hook. I had a lot of practice with satin stitch & luneville hook during Poppy flower master class (teacher there was Inga Marita).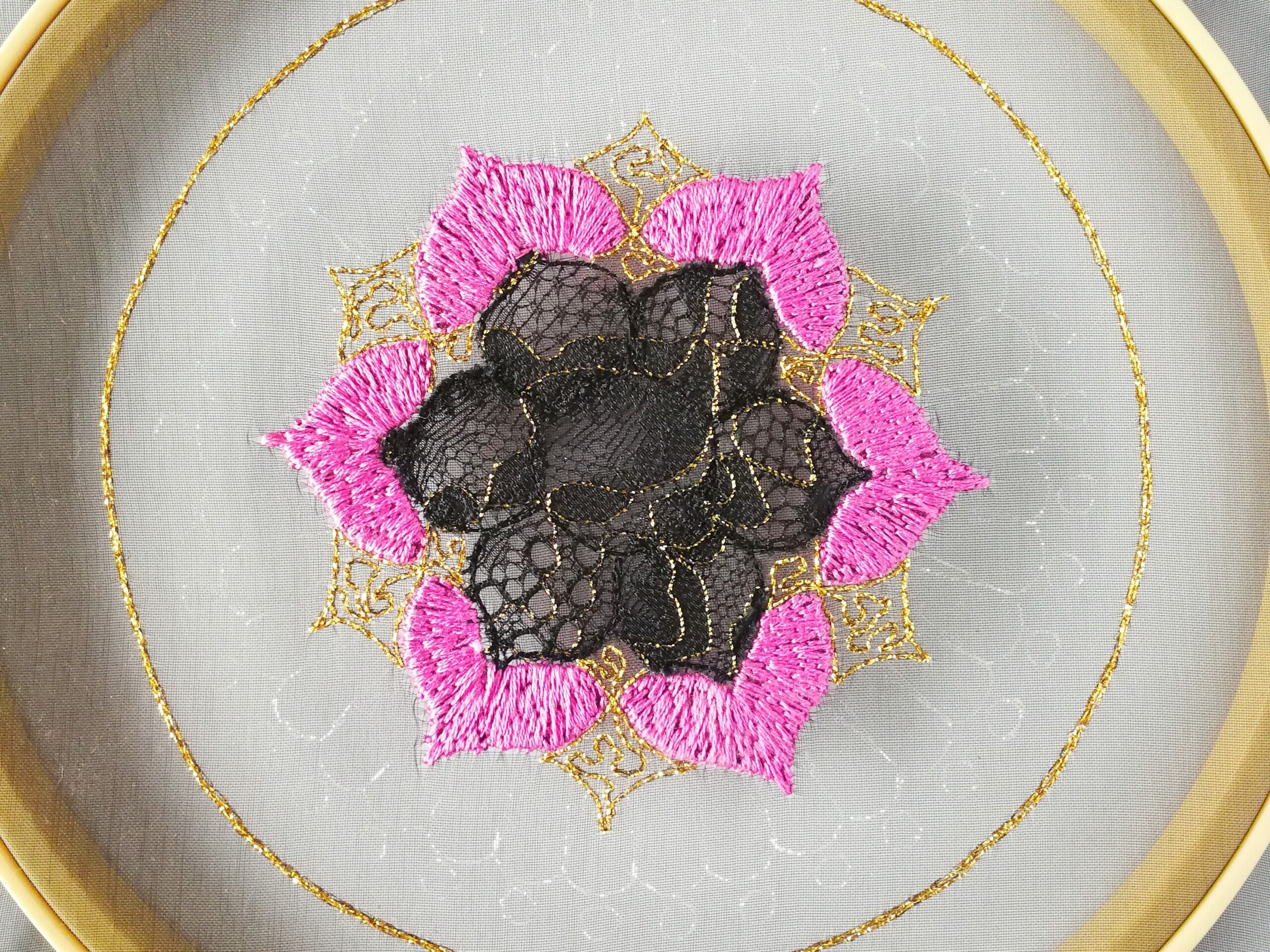 Week 3
Step 6: Adding a silver border
I have decided to embroider the smaller leaves with metallic silver thread – so they really stand out. You can see better detail in the picture bellow.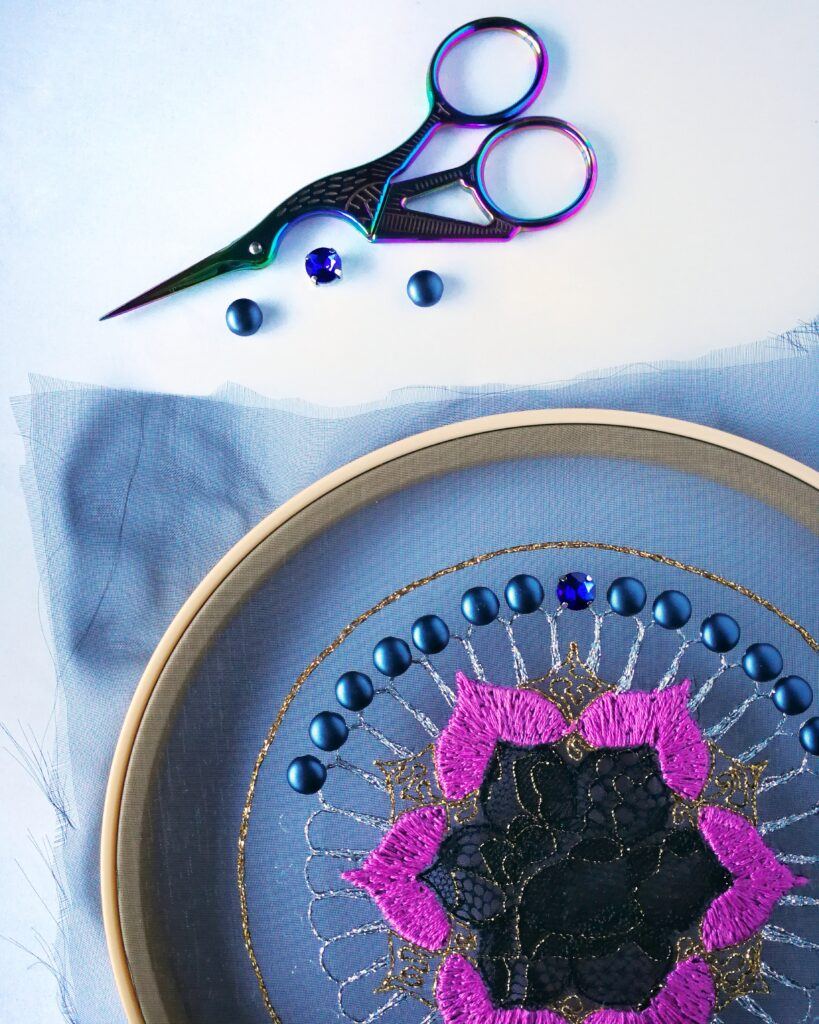 Step 7: Adding blue embellishments
I have added blue Preciosa embellishments to every silver peak of Mandala. I wanted to make Mandala more shinny, I have added 4 crystals. Unfortunately, I didn't have Swarovski crystals in the right colour, so I had to use blue crystals that are not the same quality.
My Mandala has turned out so perfectly – like it has a mind of its own. It was truly an amazing journey, where my creativity has flown freely.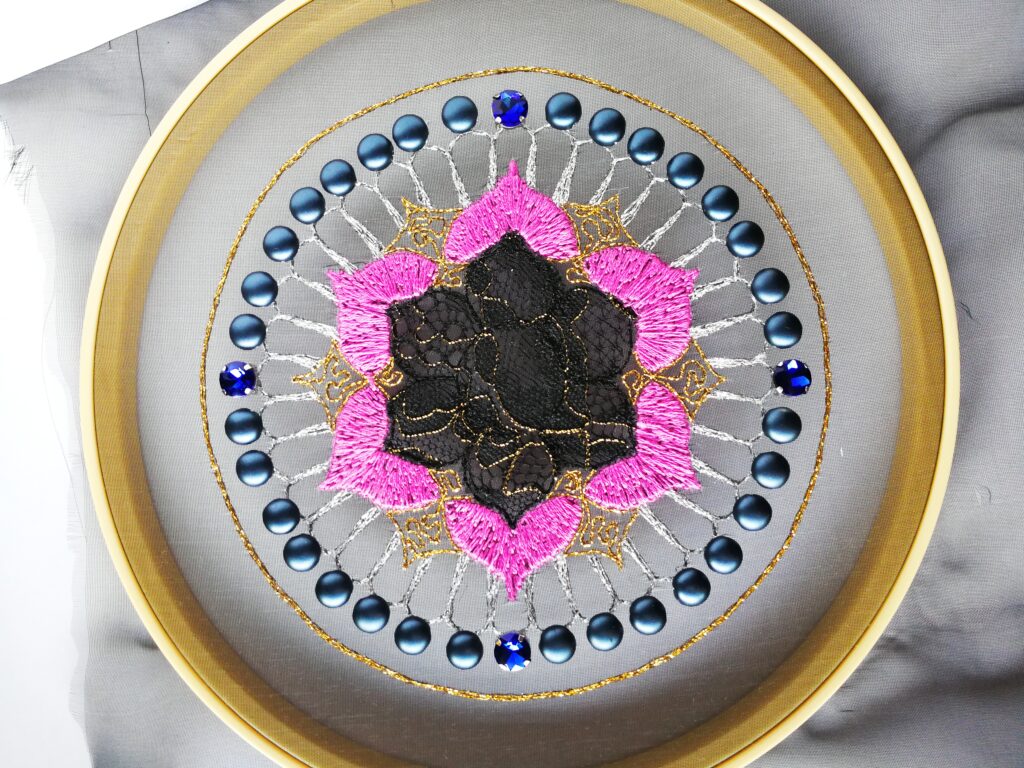 Step 8: Hanging Mandala in my bedroom
I have decided to hang Mandala on my wall. Thank you for the idea Lenka!
You can also see part of my vision board – my wish is to go to island Seychelles, so I have many pictures of them, and one of my biggest motivation to continue walking on my path.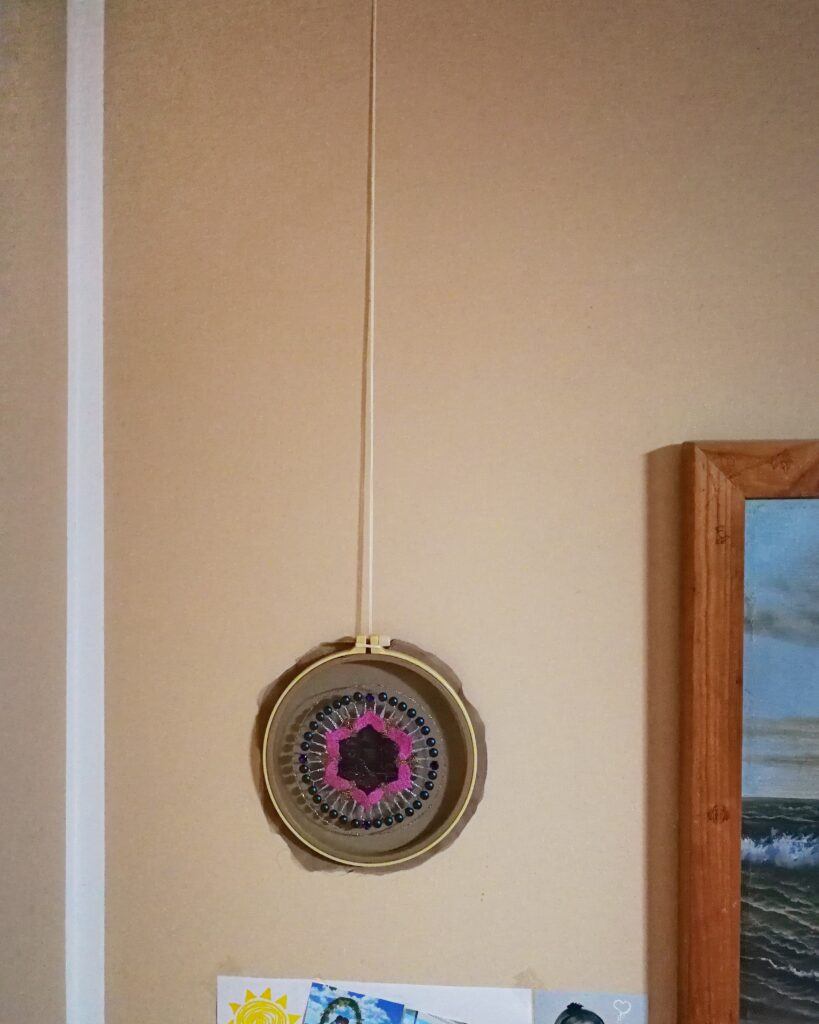 Thank you, Inga and community, for a creative journey
I have decided to embroider my Mandala together with Inga and other girls in November 2020. This participation is totally on free basis. You could have joined if you had a wish to learn new techniques and get inspired by the works of other girls. Inga shares them regularly inside her stories on Instagram profile. You read my Review on Velvet Apple online course HERE and you can check out more of Inga Marita work HERE.
You can go to Instagram and under hashtag #мандалаhautecouture and #мандалаДевичник⁠ you look at the beautiful Mandalas that were embroidered by other participants and maybe find inspiration for your future embroidery.
If you wish to see my DIY & embroidery projects or get some business embroidery tips, you can follow me on Instagram, where you can look me up under hashtags myembroiderypassions #myembroiderypassionsinspiration #myembroiderypassionsblog.
Stay creative & healthy,
Vesna
** Inga Marita has not paid me to be mentioned in this post. I have participated in several of her online classes and she has been an awesome teacher and has always answered all of my questions. I wish to deliver you my authentic experience of being a participant of LIVE online embroidery group in this post.
More Embroidery posts…