When I decided that I will start to learn embroidery, I started to look where I can purchase one. I was watching beautiful embroideries on Pinterest and there were so many beautiful photos of unfinished works that were still on hand embroidery hoops and I was really excited that soon I will have one of my own – with my embroidery masterpiece on it. I had several questions running inside my head:
how big embroidery hoop do I need,
which material is better for hoops,
do I need also a hoop stand or not?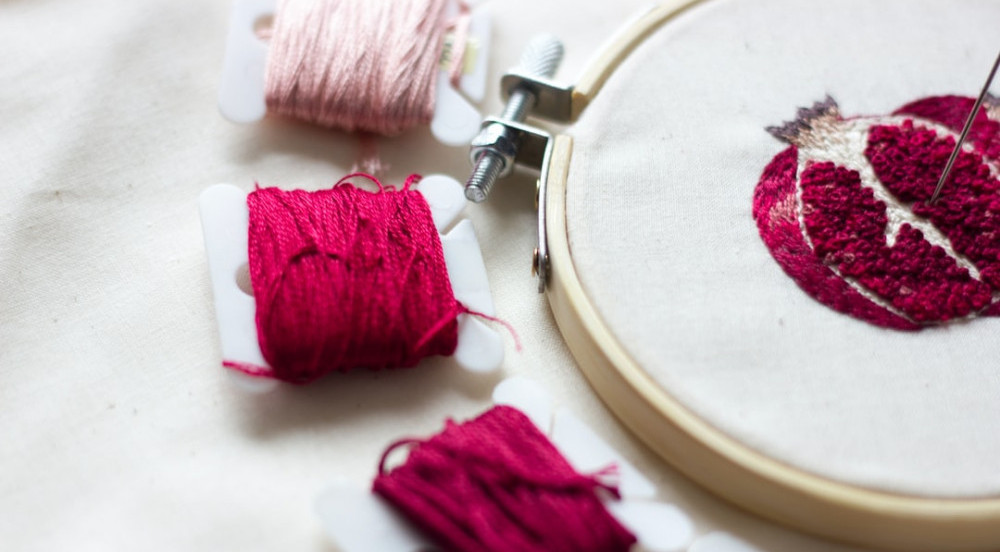 I will share with you what I have learned and you will find out my process on how to decide which hand embroidery hoop is right for you and your purpose.
Which size do I need? 
I had a hard time deciding on size because sizes vary from 7 cm / 2.7 inch to 40 cm / 15.7 inch, perhaps even bigger. I started to bead embroider central pieces for my brooches – my first hoop was 15 cm / 5.9 inch in diameter.
Since then I have purchased 2 bigger hoops – 20 cm / 7.8 inch and 26 cm / 10.2 inch. I needed bigger sizes when I started to learn luneville embroidery. Luneville embroidery is a technique that enables me to create appliques to decorate my bags, phone bags, sweaters, T-shirts or pillows (time and imagination are only limitations here).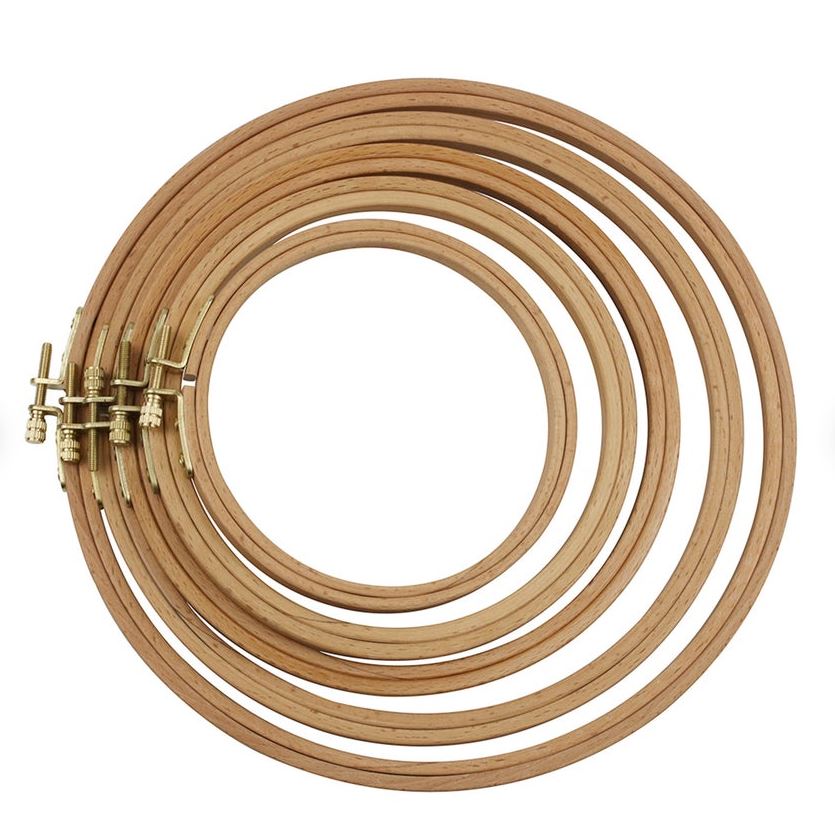 Which material to choose?
Embroidery hoops are usually made of wood or plastic. I am more ecologically oriented (there is too much plastic on our planet and it takes years for plastic to dissolve) so I prefer wooden hoops – I like my bamboos hoops and I also recommend that your hoop a strong metal has a groove or lip on the inside where the inner hoop locks into the outer hoop, in addition to having the screw hardware to tighten the hoops together.
I have not yet purchased plastic ones, so I cannot give you my personal experience. I have read that some people have vintage metal embroidery hoops, if I find one, I will purchase it and try it out.
Different range of prices
Price of hoop depends on the store where you buy it. Here are a few examples of different prices:
These are just my suggestions, you can always google for online stores that are in your country (that have fast delivery times) or try Etsy shops (you can also buy there as a guest, you don't need to open an account there) or look in your local store, or – perhaps – just ask a friend if you can borrow her hoop – so you can try to see if you like this hobby or not.
If I have time to wait for my supplies to arrive, I have ordered several different supplies form Aliexpres (I will be writing about my experience in future posts) – but be aware, some supplies that I have ordered had long shipping time – they came 3-4 months after I have placed my order. One time it took six months, so I was surprised that it arrived. If I need something fast, then I purchase from stores in Europe (before I have also ordered from America, but not this year (COVID-19 situation), because packages from America do not come as fast as they used too. Some sellers do not ship in Europe any more, but I hope that situation will soon restore to as normal as possible).
I have purchased several hoops on Aliexpres and I can use them on regular bases and their quality is OK. I just need to point out, that delivery times were very slow. I have waited for one of my hoops so long, that I have forgotten, that I have ordered it.
Clover Hoop
These are clip-on hoops, most people use it also for quilt embroidery. Circle part is made from plastic and clip-on part is from plastic and metal. They are more expensive, but you can also get them in kits – like I did when I purchased Beginners Embroidery Kit – you can read more about it HERE. I have started to embroidery my first dog and it holds the thick fabric in place very well.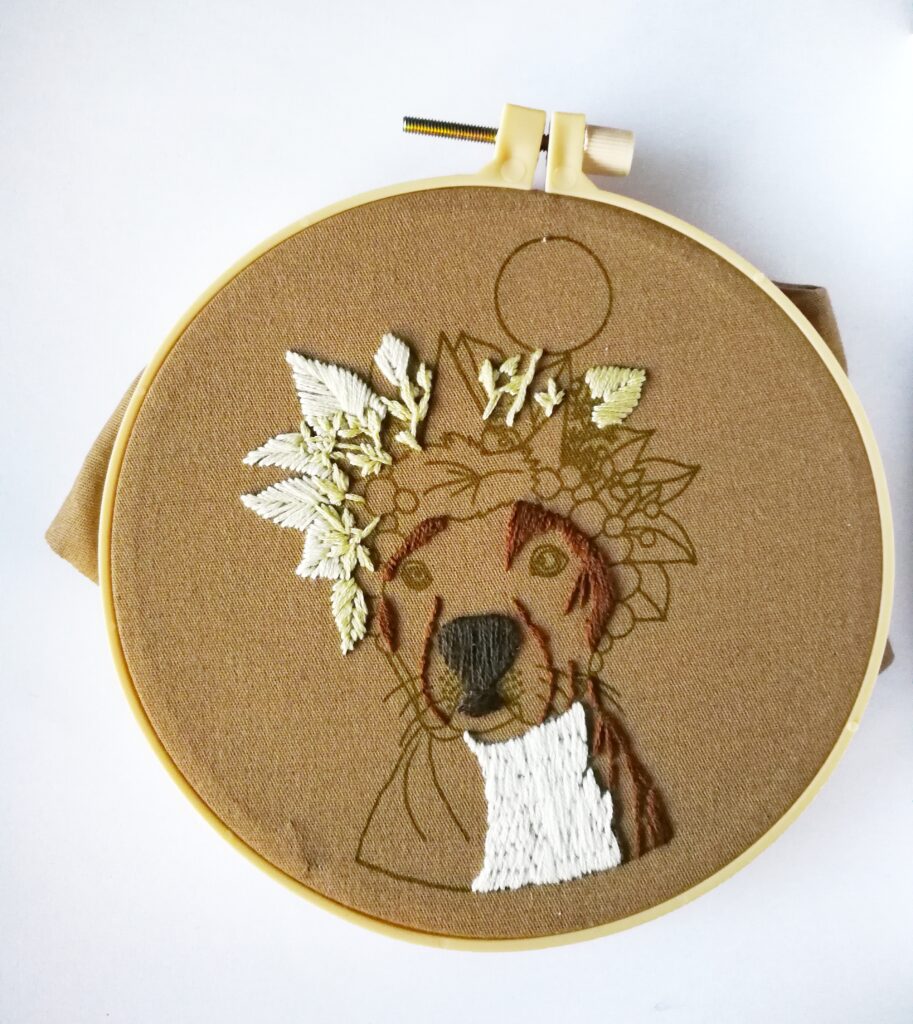 I mostly use organza for embroidery, so I have tested clover hoop during my Online Fox Embroidery Class. This hoop kept my organza base very firmly in place.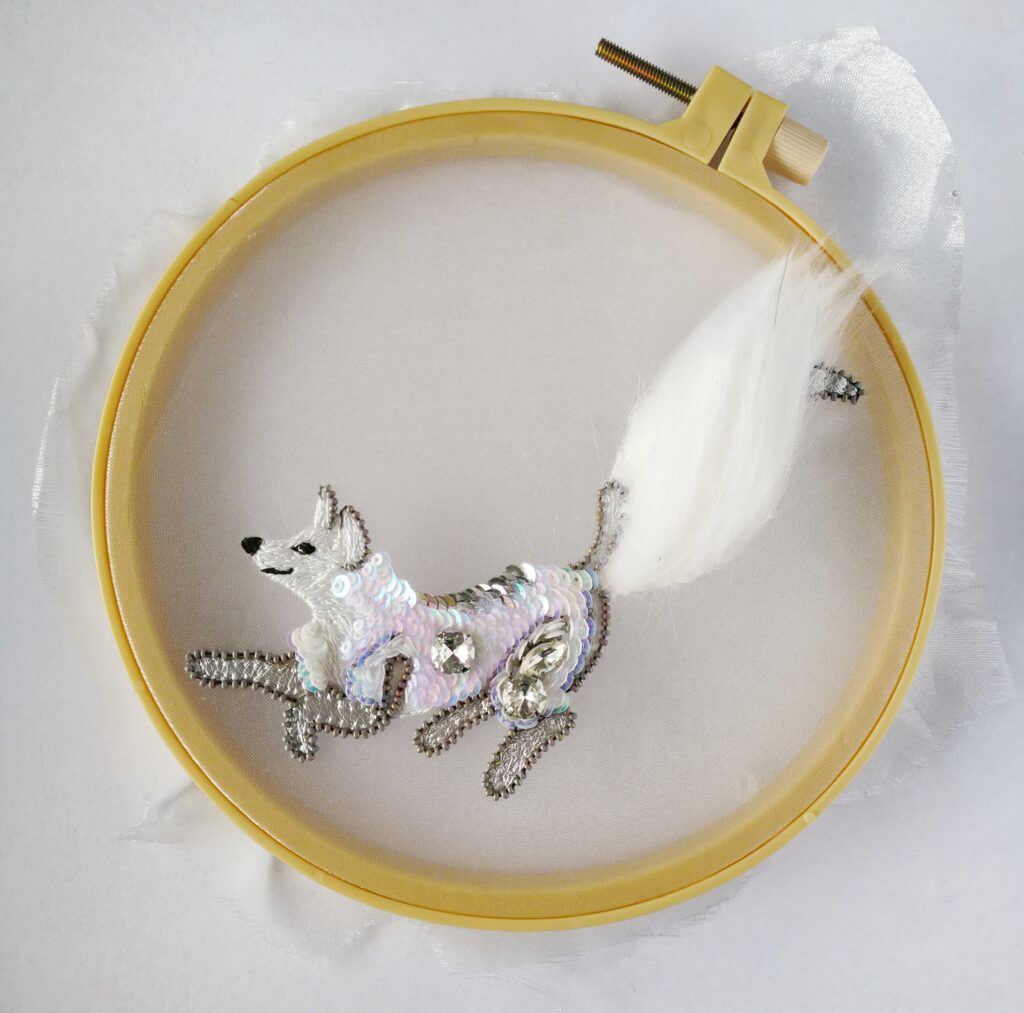 Embroidery Hoop Holder: Yes or No?
My personal opinion is following – when you are starting to explore embroidery hobby, you do not need it. I acquired my first holder after I was embroidering for one year because I was starting to learn a technique that required me to have both hands free. Later I have replaced it with carpenter's clamp – I attach my embroidery hoop with it to my kitchen table. I still do not have my craft room – that is on my wish list.
To sum up …
… if you plan to stick with your embroidery hobby, I suggest you invest and buy quality and a sturdy hand embroidery hoop. you should decide for which purpose you need your hoop and how large products do you wish to make – brooches, pendants or larges (applique for a different type of clothes).  For beginners, I would recommend 15 cm / 5.9 inch. I have bought several hand embroidery hoops from a different reason – because I start a new second project before I finish the first one. In that case, I prefer to put it on the new hoop because sometimes you cannot put the old project back on the first hoop without damaging your precious embroidery.
* All the shops that I have mentioned here I recommend because I have purchased from them and the supplies that they have delivered to me were good quality. I am using them in my embroidery projects and sharing my experience in my blog. None of the shops above has paid me to be mentioned in this post.
PS: You may also find it interesting: