I always admired embroidery and bead embroidery – on blouses, bags or brooches. I thought I did not have the patience and hands to make such masterpieces. After I had my knee injury in 2018 and plenty of time on my hands I finally started to use Google, Pinterest and I asked it how to start embroidery as a hobby.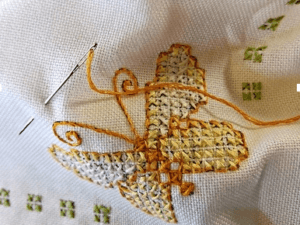 First you need a wish
After I was home for more than one month and having plenty of time to read about embroidery, I have also read blogs of several women that were writing, how they started with embroidery around their 40s – when kids got older and they had more free time on their hands. That's when I have realized that is not too late to start a new hobby. I also had a friend, Olga Teague, that was also getting into this hobby, so we could talk about supplies that are needed and where to purchase them for a fair price – not all shops have fair prices.
Find sources to learn
There are several sources to start learning from:
YouTube tutorials
(I typed keyword Embroidery beginners and I just starting looking every Utube that looked interesting to me)
classical books. First I borrowed them from our local library, after I knew what I liked and I couldn't borrow, I purchased them on Bookdepository – I usually purchase them when they offer 10 % discount.
Online classes (I took several classes with Inga Marita and Valentina Telpiz)
individual classes (if you have an option, this one I highly recommend. I took whole day bead embroidery class with Pikapolina, she explained to me some of my mistakes. It is also a pleasure to watch master at work – her workflow was so gentle and natural, it almost felt like meditation)
Pinterest – awesome for finding free patterns, beautiful pendants, necklaces and bags that are decorated with different version of embroidery technique.
Buy supplies
My first attempts were with threads and needle for sewing that I already owned. After first attempt I learned that I need to buy thinner needles and smaller beads (I ow really like different types of seed beads 11/0 and 15/0, I will later explain more about it). I live in Europe, so here are several of my favorite shops:
perlesandco – they have page in 4 different languages
my favorite place to buy swarovski stones and perles is mycristalidea 🙂
Etsy (I order mostly from Etsy shops that are inside Europe because of COVID-19 situation. Good sequins are impossible to be bought in Slovenia )
Just do it
You need to know that your first attempts at making first embroidery brooch will not be perfect and that is OK. Needle and thread will feel clumsy in your fingers and that is perfectly normal.
Practice makes perfect. I have also learned – later – that choosing better thread, that runs through fingers smoothy, that helps to improve quality of my work.
First attempt – failure, not enough know how
I actually started embroidery necklace with 3 heart shaped stones. It is still not finished. I remember first stitches, shaking hands, how hard can I pull or not pull… It took me ages. I have broken some beads because I have pulled too hard. I have tried to learn how to embroider beads around the natural stone, it was a slow process for me. Beads were so small, -I never knew that I can even purchase such small beads. After I my unsuccessful attempt to make my heart necklace, I decided to purchase my first bead embroidery tutorial.
Second attempt – purchased bead embroidery tutorial
I had my eye on one of Pikapolina's tutorial that she had in her Etsy shop. I was deciding about 14 days, if I should buy it or not…My biggest problem was my self-esteem. Can I do it? New hobby means reading more about it, get new skills, and the hardest thing… Perseverance. Not to stop at first obsticle, when things don't go the way that I have expected. When I came to decison to purchase it, she had moved it out of her shop. I have decided (I was not letting go of my goal so easily), to write to her if I can still purchase it. She responded very quickly and we made arrangements – I purchased my first bead embroidery tutorial.
Where there's a wish, there's a way
So after being at home for second month, my first parcels have started to arrive. My first bead embroidery project was based on purchased tutorial from Pikapolina Small Reef Pendant. There I have started to learn how to select all materials that I need, how hard it is to decide on changing colors – I could not get some swarovski crystals in same color. Olga also warned me that sometimes colors of swarovski stones and beads are not the same – I see one color on my cmputer screen and when the package arrives, those beads may not look the same. sometimes is better to purchase 3 types of grey beads, because it is hard to predict which one will look better with ceter element. I soon saw that she was right. another interesting revalationwas that not all 15/0 and 11/0 seed beads are the same size. Different manufacturers have some details different. Sometimes artist does not give exact manufacturer and ceolor of beads they have used. In that case some experimentaion is needed, because sometimes I could not get the exact same result as I expected when I saw tutorial the first time. I will sharee more experiences in my future posts.
* All of the shops that I have mentioned here I recommend because I have purchased from them and the supplies that they have delivered to me were good quality. I will be using them in my embroidery projects and sharing my experience in my blog. None of the shops have paid me to be mentioned in this post.