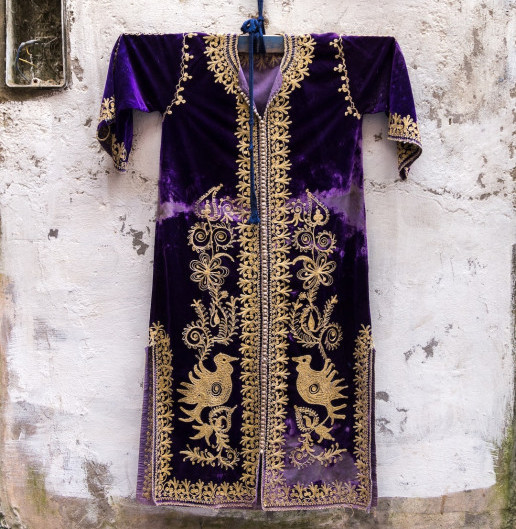 Ever since I heard of goldwork embroidery I was mesmerised by heavy decorations and colours. I wanted to learn more about this technique, so I started reading more about it. Here is my take on a brief history of Goldwork embroidery.
A brief history of Goldwork embroidery – the Origin
The goldwork embroidery technique is very easily recognized because it uses metal threads and billions on top of the design. The exact origin is not known, but it is believed that it was developed in Asia around 2000 years ago. Japanese and Chinese emperors had their garments decorated with this technique. 
Middle ages
In this era, embroidery reaches one of its peaks. In England they have developed in great detail, embroidery from that time is called Opus Anglicanum. Garments from that era are very valuable and sought after. This type of English embroidery was a luxury product and highly valued as a diplomatic gift.
After Black Death Plague killed around 75–200 million people in Europe in Asia, there was a decline in embroidery.
Embroidery after the 16th century
https://gutenberg.org/cache/epub/17585/images/bigplate25.jpg
https://gutenberg.org/cache/epub/17585/pg17585-images.html
Embroidery has started to gain more influence again. Heavily embroidered garments became a sign of social status for rich people and it was a sign of wealth and status. 
Contemporary Goldwork embroidery
Goldwork embroidery is not very widely used, because materials are expensive and the technique is very labour-intensive technique. However, you can still see it in high fashion, military and ceremonial uniforms or even in churches on prist
Materials used
Recommended fabrics:
Embroidery hoops can be used for smaller work – brooches, book covers and pictures. When you work on whole garments, you need to use support fabric and slate frame.
Other supplies
bullion – this is a metal that is pinned around sold rod and it creates a bullion coil
threads – there are no rules about threads that are used. You just need to be careful to select the thread that will match the colour of your bullion
needles – you will need several sizes of needles, and one must be small enough, to go through the bullion centre. The second one is usually a chenille needle for plunging the thread. It is very often useful to have a curved needle for finishing threads at the back of the embroidery
padding – usually, there are two types of padding used – soft string padding and felt padding. it is used to create height and relief in embroidery
beeswax – so metal threads go easier through the chosen fabric
pins
scissors
Just a note – when you read the name goldwork embroidery, you may think you will work with gold – sorry, that's not the case
Want to try Goldwork Embroidery yourself?
There are several steps that we need to follow for goldwork embroidery:
1. Choose the design
2. select your fabric and transfer the pattern 
3. mount the fabric into a hoop/frame
4. apply the padding
5. apply the bullion on the padding using the cutwork technique
Be careful to work with clean hands – metal chips tarnish easily and your embroidery will not shine as beautifully as it could.
If you do, here I found a really good YouTube tutorial for beginners
A brief history of Goldwork embroidery – bright and shinny technique
I am really fascinated with this technique and I really hope to try it in the future. I hope you like my take on a Brief History of Goldwork embroidery, if you think I forgot something, please, just drop me a note in the comments and I will research it and add it to the post 🙂
If you want to start with embroidery, you can start by learning 5 easy hand embroidery stitches for beginners and you can also try creating an embroidery journal – a great project for long winter evenings.
I wish you lots of creativity and easy stitches.
Vesna